Amazon projects holiday season sales below Wall Street targets
Comments
By Reuters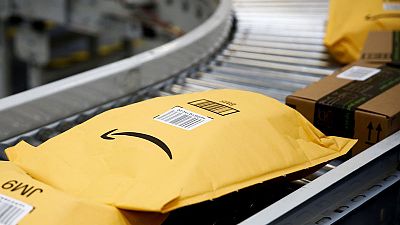 -
By Jeffrey Dastin and Arjun Panchadar
(Reuters) – Amazon.com Inc <AMZN.O> on Thursday forecast holiday season sales that disappointed Wall Street, attributing what would be its lowest growth in years more to accounting issues than to any slowdown in business for the world's largest online retailer.
Shares fell 8 percent in after-hours trade.
Amazon's third-quarter sales and its forecast for fourth-quarter operating profit missed analyst estimates as well. And analysts said international results were disappointing.
For years, Amazon has made expensive bets on new technology and programs, like its $13.7 billion (£10.7 billion) acquisition of Whole Foods in 2017 to storm the U.S. grocery industry. That has resulted in rollercoaster profits in the past, but revenue has largely grown at a breakneck pace as consumers shifted shopping online and away from brick-and-mortar stores.
Amazon's more subdued expectations for this year's holiday shopping season, which runs from the U.S. Thanksgiving holiday in late November through New Year's, came as a surprise. It forecast that fourth-quarter sales will rise between 10 percent and 20 percent, or up to $72.5 billion, while analysts were expecting $73.9 billion, according to Refinitiv data.
That would be Amazon's lowest quarterly sales growth since at least the start of 2016.
Brian Olsavsky, Amazon's chief financial officer, said no fundamentals had changed, just some holiday timing and accounting differences.
"We're expecting a strong holiday season, so there's no message in our forward guidance against that," he said on a conference call with media. "We have everything ready to roll."
The company moved the recording of $300 million in Prime subscription revenue from the fourth quarter to earlier periods in the year, he said. In addition, Amazon faces a tougher year-over-year comparison because the Whole Foods deal closed in the third quarter of 2017, and the different timing of the holiday Diwali affected sales patterns, he said.
Amazon forecast operating income between $2.1 billion and $3.6 billion, below the $3.87 billion expected by analysts, according to FactSet.
Colin Sebastian, an analyst for Baird Equity Research, said in a note that the holiday guidance was "a little weak – though not unusual," potentially due to higher shipping and labour costs.
Neil Saunders, managing director of GlobalData Retail, said the retail landscape has been shifting. "There is more online competition in online retail than there has ever been, and that competition is more effective than it has ever been," he said.
Olsavsky focussed attention on a jump in the company's profit for the just-ended third quarter, citing strides in how efficiently Amazon runs its business. Net income rose to $2.88 billion, or $5.75 per share, from $256 million, or 52 cents per share, a year earlier.
"We've really been able to cut back in a number of key areas," Olsavsky said, noting that headcount and warehouse square footage were both growing more slowly than in years past, and data centres were benefiting from extra efficiencies.
Nonetheless, total operating expenses increased by 21.8 percent to $52.85 billion as the company invested in its Prime programme, grocery delivery from Whole Foods stores and the creation of original video content.
Revenue from Amazon Web Services, the fast-growing cloud services business, surged 45.7 percent to $6.68 billion, narrowly edging past estimates of $6.67 billion.
Shares of Amazon were trading down at $1,623.25.
(Reporting by Jeffrey Dastin in San Francisco and Arjun Panchadar in Bengaluru; Editing by Leslie Adler)