U.S. new home sales near two-year low as mortgages rates rise
Comments
By Reuters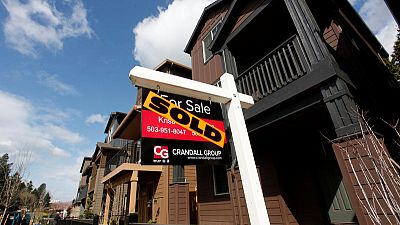 -
By Lucia Mutikani
WASHINGTON (Reuters) – Sales of new U.S. single-family homes fell to a near two-year low in September and data for the prior three months was revised lower, the latest indications that rising mortgage rates and higher prices were sapping demand for housing.
Though housing accounts for a small share of gross domestic product, it has a bigger economic footprint. That is raising concerns that protracted housing market weakness could eventually spill over to the broader economy. Residential investment contracted in the first half of the year and is expected to have declined further in the third quarter.
"It is increasingly apparent that homes are getting too expensive to afford both on price and on financing costs," said Chris Rupkey, chief economist at MUFG in New York. "One thing is for certain, the economy cannot grow at a sustainable 3 percent pace for long if new home sales continue to tumble."
The Commerce Department said on Wednesday new home sales dropped 5.5 percent to a seasonally adjusted annual rate of 553,000 units last month. That was the lowest level since December 2016. August's sales pace was revised down to 585,000 units from the previously reported 629,000 units.
June and July sales rates were also revised lower. New home sales have now declined for four straight months. Economists polled by Reuters had forecast new home sales, which account for about 9.7 percent of housing market sales, falling 1.4 percent to a pace of 625,000 units last month.
New home sales are drawn from permits and tend to be volatile on a month-to-month basis. They declined 13.2 percent from a year ago.
The PHLX housing index <.HGX> was trading lower, also tracking a broadly weaker U.S. stock market. The dollar rose against a basket of currencies, while U.S. Treasury yields fell.
The weak new home sales came on the heels of reports last week showing declines in homebuilding, permits and housing completions in September. In addition, sales of previously owned homes dropped to a near three-year low in September.
Economists blame the sluggishness on the more expensive home loans and higher house prices, which have outstripped wage growth, making home purchasing unaffordable for some first-time buyers. The 30-year fixed mortgage rate has increased more than 80 basis points this year to an average of 4.85 percent, according to data from mortgage finance agency Freddie Mac.
A survey of homebuilders published last week showed builders complaining that "housing affordability has become a challenge due to ongoing price and interest rate increases."
NOTCOLLAPSING
In a separate report on Wednesday, the Federal Housing Finance Agency said its home price index rose 6.1 percent in the year to August. House price inflation is slowing from a peak of 7.7 percent in February as demand slackens, but continues to outpace annual wage growth, currently below 3 percent.
Economists do not believe the housing market is headed for another collapse.
"I don't see that happening. The market never did reach the bubble stage, at least as far as sales are concerned," said Joel Naroff, chief economist at Naroff Economic Advisors in Holland, Pennsylvania. "The problem is that demand has not been evenly distributed across the nation and prices have soared in some areas."
Mortgage rates are likely to rise further, with the Federal Reserve expected to raise interest rates in December for the fourth time this year. Another report on Wednesday from the Mortgage Bankers Association showed applications for loans to purchase a home rose 2 percent last week. Applications, however, remained 4 percent lower than two weeks ago.
Last month, new home sales in the South decreased 1.5 percent to their lowest level since August 2017. Sales in the South, which accounts for the bulk of transactions, have now decreased for four straight months.
Sales tumbled 12.0 percent in the West to a two-year low and plunged 40.6 percent in the Northeast to their lowest level since April 2015. They rose 6.9 percent in the Midwest.
There were 327,000 new homes on the market in September, the most since January 2009 and up 2.8 percent from August. Supply is, however, just over half of what it was at the peak of the housing market boom in 2006.
At September's sales pace it would take 7.1 months to clear the supply of houses on the market, the most since March 2011, compared with 6.5 months in August.
Nearly two-thirds of the houses sold last month were either under construction or yet to be built.
(Reporting by Lucia Mutikani; Editing by Andrea Ricci)