Migrants block Bosnian border, scuffle with Croatian police
Comments
By Reuters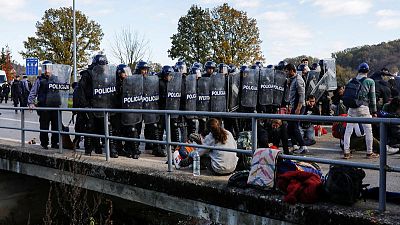 -
By Marko Djurica
MALJEVACBORDERCROSSING, Bosnia (Reuters) – Several people were injured on Wednesday as migrants demanding to cross Bosnia's northwestern border threw stones at Croatian police who responded by firing teargas and using batons to push them back, a Reuters photographer at the scene said.
Hundreds of migrants broke a Bosnian police cordon earlier on Wednesday and blocked the Maljevac border crossing, hoping to pressure neighbouring Croatia to open its frontier and let them travel north, Bosnian authorities said.
Thousands of migrants fleeing wars and poverty in Asia and North Africa are living rough in impoverished Bosnia, and many are growing increasingly concerned about the onset of cold winter weather and a lack of adequate shelters.
Most of them want to travel onwards through Croatia, heading to wealthier European Union countries.
As the migrants blocked the border post on the Bosnian side, Croatian police wearing riot gear put up a fence to block their passage and formed a cordon. Eight police vans were parked behind the border and a helicopter hovered above.
Some of the migrants hurled stones and scuffled with the police, who responded by using teargas and batons. A woman sustained head injuries and was taken to hospital, along with another injured man, the Reuters photographer said.
The migrants, including families with small children, had spent two nights sleeping rough close to the border, hoping to be allowed into Croatia.
On Wednesday, they set up their tents and sleeping bags on the road that had been closed for traffic.
Croatian police said on Tuesday they would not allow illegal entry into the country, dismissing as false rumours that the country would open its borders.
About 16,000 refugees and migrants, most of them from Afghanistan, Pakistan, Iran and Morocco, have passed through Bosnia this year on their way to EU countries.
About 5,000 are estimated to be stuck in Bosnia, most in the towns of Bihac and Velika Kladusa near the Croatian border.
Bihac police stopped about 90 migrants travelling on a train that arrived late on Tuesday from the capital, Sarajevo, and sent dozens of them back on buses, Bihac police commissioner Mujo Koricic said.
(Additional reporting by Daria Sito-Sucic and Maja Zuvela; Editing by Helen Popper)