Brexit gridlock signals cautious UK budget
Comments
By Reuters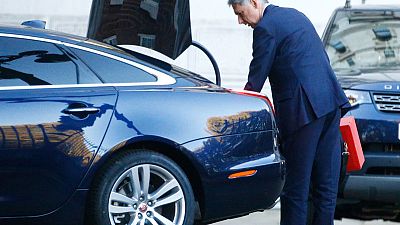 -
By David Milliken
LONDON (Reuters) – A shrinking fiscal deficit ought to give British finance minister Philip Hammond leeway to loosen the purse-strings in his annual budget on Monday, but political gridlock over Brexit is likely to stay his hand.
In March the government's spending watchdog predicted a fiscal gap of 1.8 percent of national income this year, Britain's lowest since 2001/02. Now, with the economy and tax revenues less damaged than some feared by Brexit's approach, the shortfall is on course to be smaller still.
Under ordinary circumstances, that would leave him free to honour Prime Minister Theresa May's promise that "austerity … is over"..
But with no deal yet for a smooth departure from the European Union in March, economists expect Hammond to remain cautious.
The International Monetary Fund said in September that a 'no-deal' Brexit would shrink Britain's economy.
Hammond also faces the challenge of how to fund May's promises of more spending, as her minority government lacks the strength to deliver big tax increases.
"The chancellor is constrained by politics really, not economics," Samuel Tombs of consultancy Pantheon Macroeconomics said. "This government's policy horizon is weeks at the moment, rather than months or years."
The longer-term fiscal position is less rosy than this year's borrowing figures suggest.
Public debt has risen to over 80 percent of gross domestic product, and the Office for Budget Responsibility and the Bank of England think Britain's long-term economic growth rate has slowed, even excluding the effects of Brexit.
This makes it much harder for the country to grow its way out of its debt problem as it has done in previous decades.
TAXINGCHALLENGE
Taxes would need to hit their highest since just after World War Two to end the squeeze on public services as suggested by May while also bringing debt down over the long term, the non-partisan Institute for Fiscal Studies warned last week.
But Hammond abandoned planned tax rises last year due to opposition within his own party, even before May lost her parliamentary majority in an election.
This month, the Northern Irish Democratic Unionist Party which backs the government briefly threatened to vote down the budget in protest at May's handling of Brexit talks.
That leaves major tax rises looking too politically tricky.
"The amount of time and energy that is being taken up with Brexit … and the fact that it's difficult for the government to get a majority for any reforms means there isn't a lot of scope for announcements on the tax side," said Gemma Tetlow, chief economist at the Institute for Government think tank.
Hammond is in any case not under immediate pressure to raise taxes, thanks to the improvement in public finances.
Further helping him, the OBR has said it might revise down its estimates of future budget deficits.
May's announcement in June of an extra 20 billion pounds a year in healthcare spending only takes full effect in 2023/24, and revenue from existing taxes should cover immediate costs.
But other commitments, such as a freeze on a vehicle fuel tax and a rise in the amount people can earn without paying income tax, will eat up further potential revenue.
Many lawmakers also want Hammond to make money available to soften a revamp of benefits for unemployed and low-paid workers.
While there will be a spending outline through to 2024, May and Hammond probably want to hold spending commitments back to reward ministers who might resist her Brexit plans, Pantheon Macroeconomics' Tombs said.
Hammond has talked about the prospect of a Brexit dividend if the country can strike a deal with Brussels.
"The prime minister is being very strategic," Tombs said. "The spending plans in this budget will be quite provisional and conservative, and there could be more to come next year after the Brexit deal."
($1 = 0.7705 pounds)
(Editing by William Schomberg and John Stonestreet)