Sub-zero 'real' rates puts Turkey central bank in a bind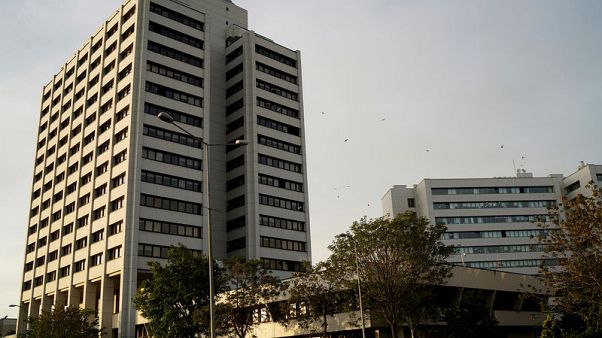 -
By Marc Jones
LONDON (Reuters) – Turkey's central bank may take a break from raising interest rates this week having nearly doubled them already this year, but with inflation at 25 percent and climbing markets think more rate hikes are inevitable.
For once the central bank is meeting with the lira going up rather than tumbling down, but as the graphics below show there are plenty of issues to grapple with.
One of the most obvious is that last month's jump in inflation means that what economists call the 'real' interest rate — the interest rate on a bond minus the inflation rate — is back in negative territory.
'Real' rates matter because investors decide which bonds to buy based on the return they receive. Turkey's minus 6 percent rate <TR10YT=RR> for example compares to 8 percent positive yields on Brazilian bonds or 5.5 percent in Indonesian or Russian bonds.
(Turkey's real yields aren't appealing: https://tmsnrt.rs/2J6PjYs)
RATEEXPECTATIONS
With everything that is going on, Turkey's notoriously tricky-to-read money markets are even more muddied at the moment.
On the face of it one-month rates in one week's time <TRYAM3L1MF1W=> <0#TRYAM3LFSSM> – i.e. after the central bank meeting – suggest another chunky hike of at least 2 percentage points but traders say they are heavily distorted.
They argue the truer picture is reflected by recent drop in shorter-term Turkish bond yields which in turn has steepened the bond 'curve'.
"It suggests the market is getting more comfortable with the idea they are not going to do anything (this month) although the curve was incredibly inverted," said Kieran Curtis, a senior investment manager at Aberdeen Standard Investments.
Twelve of the 15 economists polled by Reuters last week also said they expected rates to stay at their current 24 percent <TRINT=ECI> at Thursday's meeting. The remaining three expect hikes of between 75-175 basis points.
Further out, the expectation of higher rates seems to remain though. Three-month money market rates <TRYAM3L3MF1W=> are still hard to gauge accurately, but suggest the central bank could get as high as 29.5 percent in a fairly short period of time.
"Our call, based on the inflation outlook, is another 500 basis points (of rate hikes) in the next 6 months," Deutsche Bank's head of CEEMEA economics research Kubilay Ozturk, who sees inflation topping out at about 28 percent.
(Markets see more Turkish rate hikes png: https://tmsnrt.rs/2CNoJ7p)
SWINGINGNOTWINNING
Another big shift that has helped the lira rebound 25 percent since August is the rapid closure of the country's yawning current account gap – a measure of the trade balance plus key elements like fixed income flows.
Data last week showed Turkey scored its first positive current account reading in three years.
Along with persistent double-digit inflation, Turkey's longstanding current account deficit has been a source of concern for investors, as it makes the economy reliant on speculative foreign inflows.
Achieving a surplus means the government should be able pay investors with own finances rather than needing to borrow more to pay them.
UniCredit's EM FX Strategist Kiran Kowshik though points out that the lira doesn't automatically rally when the current account corrects from deficit to surplus.
In fact the currency has fallen on all 12 occasions since 1990 where it swung into surplus for a period of at least two months. It depreciated on average by 3.9 percent against the dollar during the adjustment.
(Turkey notches first C/A surplus in 3 years:https://tmsnrt.rs/2NWN4b6 )
MOVINGQUICKLYBRAKESTHINGS
If the central bank doesn't hike this week it will point out, with some justification, that its 11.25 percentage points worth of rate hikes so far this year has slammed the brakes on the economy.
GDP has slowed with forward-looking purchasing manager surveys indicating a contraction. Unemployment has risen too and annualised industrial production is the weakest since December 2016 despite the lira's value dropping by more than third.
Analysts at Goldman Sachs are among those who see Turkey entering into a recession by the turn of the year. They also remain concerned about dollar borrowing levels of Turkish companies and banks.
The current level of reserves in Turkey falls short of short-term external liabilities, and FX reserves remain sensitive to private sector rollover rates. In the hypothetical event that private sector liabilities end up on the sovereign balance sheet, public debt would double from 30 percent to around 60 percent of GDP.
(Turkey's manufacturing sector slide:https://tmsnrt.rs/2J3NXhe )
(Turkey rates, inflation and lira moves: https://tmsnrt.rs/2ODh40Z)
(Reporting by Marc Jones; Editing by Toby Chopra)
euronews provides breaking news articles from reuters as a service to its readers, but does not edit the articles it publishes. Articles appear on euronews.com for a limited time.