Ryanair warns fares to remain soft as summer profit falls 7 percent
Comments
By Reuters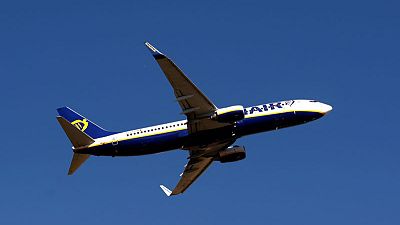 -
By Conor Humphries
DUBLIN (Reuters) – Ryanair <RYA.I> reported a 7 percent fall in profit during its key April-September season on Monday, citing higher fuel costs and damage to bookings caused by strikes, and said European short-haul airfares would remain soft this winter.
Ryanair three weeks ago cut its forecast for full-year profit by 12 percent and warned that worse may follow if a recent wave of pilot and cabin crew strikes across Europe continue to hit traffic and bookings.
Europe's largest low-cost carrier has struggled with labour relations since it bowed to pressure to recognise trade unions for the first time last December. It said it hoped to finalise more union agreements in the coming months but could not rule out further industrial action.
Shares of Ryanair, which is also counting the cost of stubbornly high fuel prices, closed on Friday at 11.51 euros, down 20 percent compared to three months ago and down 40 percent from a peak of 19.39 euros in August last year before its staff problems emerged.
Ryanair, which traditionally makes most of its profit in the summer, reported a profit of 1.2 billion euros (1.1 billion pounds) in the six months to Sept. 30. It reiterated its full-year profit forecast of between 1.1 billion euros and 1.2 billion euros.
That would represent a 17-24 percent fall from the record 1.45 billion euro post-tax profit booked in its most recent financial year to March 31.
A poll of over 10 analysts by Ryanair ahead of the results found an average forecast of 1.127 billion euros for the full year and 1.175 billion for the six months to Sept. 30.
"This full year guidance remains heavily dependent on air fares not declining further – they remain soft this winter due to excess capacity in Europe – (and) the impact of significantly higher oil prices on our unhedged exposures," Ryanair CEO Michael O'Leary said in a statement.
But he said Ryanair's cost advantage over rivals is widening and "over the medium term, consolidation will create growth opportunities for Ryanair's lowest fare/lowest cost model."
(Reporting by Conor Humphries; Editing by Amrutha Gayathri)