ECB bank survey sees rising credit demand, easing standards in the fourth quarter
Comments
By Reuters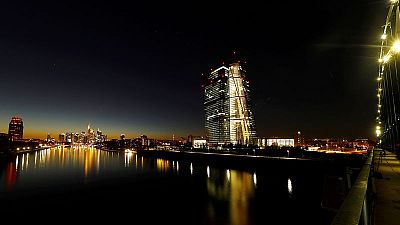 -
FRANKFURT (Reuters) – Euro zone banks expect further increases in demand for housing, corporate and consumer loans in the fourth quarter after an increase in all categories during the previous three months, the European Central Bank said on Monday.
Credit standards — internal guidelines or loan approval criteria — are expected to be broadly unchanged for business loans while banks see easing standards for housing loans and consumer credit, the ECB said in a report scheduled for release on Oct. 23 but published a day early.
Buying 2.6 trillion euros ($3 trillion) worth of public and private bonds over the past three years, the ECB has pushed borrowing costs to record low levels, stimulating lending, even if more slowly than policymakers initially hoped.
With lending growth at its highest level since the bloc's debt crisis, the ECB has been dialling back stimulus and plans to end its hallmark asset-purchase scheme in December, arguing that the recovery is sufficiently strong to continue with reduced support.
Credit standards in the third quarter eased further for business loans as expected but lending criteria for mortgages eased less than earlier predicted, the ECB said, based on a survey of 147 banks.
"For loans to enterprises, competitive pressures and lower risk perceptions were the main factors contributing to an easing of credit standards," the ECB said. "Those two factors also contributed to an easing of credit standards on housing loans, albeit less so than in the second quarter of 2018."
The ECB added that financing costs and balance sheet constraints had a broadly neutral impact on credit standards for business loans and mortgages.
To read the ECB's lending survey, click on: https://www.ecb.europa.eu/stats/ecb_surveys/bank_lending_survey/html/ecb.blssurvey2018q3.en.html#toc2
(Reporting by Balazs Koranyi; Editing by David Stamp and Helen Popper)