Chilean court orders Catholic Church to pay damages over abuse - report
Comments
By Reuters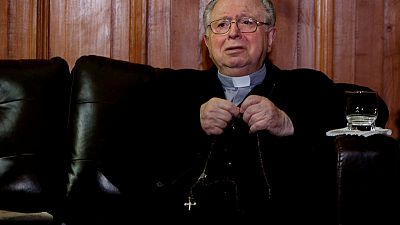 -
By Aislinn Laing
SANTIAGO (Reuters) – Chile's Court of Appeal has ordered the office of Santiago's Archbishop to pay $450 million pesos (497,212 pounds) to three men who alleged they were sexually abused for decades by Chilean priest Fernando Karadima, a local newspaper said on Sunday.
Citing a copy of a leaked judgment, La Tercera said the three judges who heard the case on Thursday found in favour of an appeal for "moral damages" against the church for allegedly covering up the crimes. The case was previously rejected by a lower court for lack of evidence.
Reuters could not independently confirm the report. The Santiago Archbishopric, which could appeal to Chile's Supreme Court, said it would not comment on La Tercera's account.
If confirmed by the court on Monday, it would be the first damages order to have been levelled against Chile's powerful Roman Catholic Church for a scandal of sex abuse and cover-up that prompted Pope Francis to apologise to its faithful.
Legal experts have said it could pave the way for more claims amid a new climate of discovery which has seen hundreds of people come forward to allege they were abused and criminal prosecutors launch scores of new investigations.
In a statement hailing the reported verdict, claimants James Hamilton, Jose Andres Murillo and Juan Carlos Cruz – who were invited to Rome earlier this year to tell the Pope about their alleged abuse – said it was the culmination of a "journey that was long and painful, but worth it".
"We are witnessing an important cultural shift, in which the abuses of the powerful are beginning to be seen as unacceptable, and Justice is confirming that," they said.
Their lawyer, Juan Pablo Hermosilla, told Reuters they believed the report was credible but added: "I don't have official confirmation yet."
Karadima worked for the Santiago Archbishopric as a parish priest in the wealthy suburb of El Bosque for 21 years between 1985 to 2006.
Now 88 and living in a nursing home in the capital, Karadima has always denied accusations of abuse. He was never charged by civilian authorities because the statute of limitations on such crimes had expired. He was found guilty of sexual abuse in a Vatican investigation in 2011, and last month was defrocked by the Pope.
Separately, in an interview with El Mercurio newspaper, Chile's national prosecutor Jorge Abbott said he was frustrated that a promise by Vatican sex abuse investigators of a new era of cooperation with civilian authorities was not being met.
"We had hoped for better collaboration, that the responsible people would appear, be interviewed and we could establish the existence or otherwise of facts, because the victims have waited so many years to know the truth," Abbott told El Mercurio.
(Reporting by Aislinn Laing; Editing by Daniel Wallis)