UK posts smaller-than-expected budget deficit in boost for Hammond
Comments
By Reuters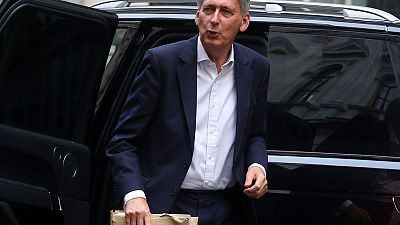 -
LONDON (Reuters) – Britain's government recorded a smaller budget deficit than expected in September, according to figures that are likely to cheer Chancellor of the Exchequer Philip Hammond ahead of his annual budget.
The deficit in September stood at 4.123 billion pounds, compared with 4.958 billion pounds a year ago, the Office for National Statistics (ONS) said. A Reuters poll of economists had pointed to a reading of 4.5 billion pounds.
So far this financial year, the deficit totals 19.9 billion pounds, down 35 percent from April-September 2017 and the smallest total at this stage of the year since 2002.
Hammond is due to outline his budget on Oct. 29 and few economists expect him to unveil any major shifts in spending with little more than five months to go until Brexit. London and Brussels have yet to strike a divorce agreement.
Friday's data showed solid growth in receipts from sales and income taxes continued through September, helping to narrow the deficit despite a rise in government spending.
The deficit stood at 9.9 percent of GDP when Hammond's predecessor, George Osborne, took over as Chancellor in 2010 and started a multi-year programme of public spending cuts.
In March, Britain's Office for Budget Responsibility said it expected the shortfall between how much the government spends and how much it earns from tax revenues to fall this financial year to 37.1 billion pounds, or 1.8 percent of GDP.
Since then, Prime Minister Theresa May has promised an extra 20 billion pounds a year in public healthcare funding, phased in over the next five years. Hammond has said he will explain how this will be funded in his budget statement.
The OBR has estimated that Brexit will be a net drain on Britain's public finances, not a benefit.
Britain made more progress on improving the public finances last year than the OBR expected because the economy slowed less than feared after the 2016 Brexit referendum shock and it has been running ahead of the OBR's forecasts this year too.
Hammond has said he is aiming for a budget surplus by the mid-2020s and he also wants to steadily cut national debt as a share of GDP which he says is too high to easily support a big rise in public spending during a future deep recession.
Public debt stood at 1.79 trillion pounds in September, or 84.3 percent of gross domestic product, down from 86.7 percent in the same month of 2017 but double its level before the financial crisis.
The headline public sector net debt figures are inflated by a temporary Bank of England lending stimulus scheme which is due to be repaid this year – something which makes a near certainty of Hammond's goal to lower debt as a share of GDP.
Stripping out the effect of the BoE scheme, net debt as a share of GDP has been falling for three years, although it rose slightly to a three-month high of 75.3 percent in September.
(Reporting by Andy Bruce and Andrew MacAskill; uk.economics@reuters.com; +44 20 7542 5109)