Thyssenkrupp declares force majeure on low Rhine water levels
Comments
By Reuters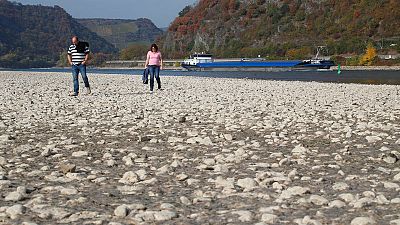 DUESSELDORF, Germany (Reuters) – German industrial conglomerate Thyssenkrupp <TKAG.DE> has declared force majeure as the Rhine's extremely low water levels are disrupting the delivery of raw materials to its Duisburg plant, the company said on Friday.
"Output will be scaled back accordingly," it said in a statement, adding that consequences were being assessed.
Water levels on the Rhine River fell to a record low this week amid a severe drought and were forecast to fall even further, hampering oil product barge trading in northwest Europe.
Chemicals company BASF <BASFn.DE>, whose main plant in Germany is located further up the Rhine river at Ludwigshafen, said its production was also being impacted.
A spokesman for the group said supply issues were affecting the manufacture of four softening agents and three acrylates but said it was too soon to assess the financial impact.
Shallow water on the Rhine in Germany means freight vessels cannot sail fully loaded.
(Reporting by Tom Kaeckenhoff and Matthias Inverardi; writing by Thomas Seythal and Maria Sheahan; editing by Louise Heavens)