Pakistan's Azhar sees lighter side of brain-fade run-out
Comments
By Reuters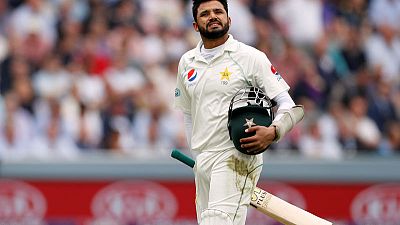 -
(Reuters) – Azhar Ali's bizarre run-out during day three of the second test against Australia has set himself up for a life-time of teasing from his children, the Pakistan batsman joked.
Azhar and his batting partner Asad Shafiq suffered a collective brain-fade only six runs into their partnership at Abu Dhabi on Thursday, convening for a mid-pitch chat after Azhar sent a shot racing past gully toward the boundary.
Problem was, it never made the rope, and fielder Mitchell Starc whipped the ball back to Australia captain Tim Paine who whipped off the bails with a shriek of joyous disbelief.
Former Australia captain-turned-broadcaster Allan Border pulled no punches as Azhar trudged ruefully off for 64, describing it as "just total stupidity."
On Wisden radio, Mike Hussey was also scathing.
"We've seen some of the biggest rookie errors in this test match," the former Australia batsman said. "But that takes the cake."
After Pakistan finished day three with a commanding 490-run lead and needing nine wickets for victory, Azhar said he had given his three sons the perfect comeback for whenever he felt the need to lecture them. [nL8N1WY5RO]
"I know I will be asked this question for a long time now, especially when I go back home," Azhar, a 33-year-old veteran of 66 tests, smiled at reporters.
"My sons will ask it in a more funny way … they're going to speak about it for years. Whenever I say something to them they are going to come back to me about this run out."
The run-out quickly went viral on social media, triggering derisive headlines on websites around the world.
Australia paceman Peter Siddle was bemused by the error.
"As a young kid, my coach always told me you've got to run hard until it goes over that rope," Siddle laughed.
While Shafiq was also culpable, Azhar was happy to take full responsibility.
"You shouldn't be not watching the ball for (that) long. I didn't realise that the ball has stopped at the boundary and someone ran and picked it up," he said.
"It was one of those things where neither Asad or I had a sight of it … even when the throw was coming back I thought he's just thrown it after the ball hit the (boundary).
"When Tim Paine started to run towards the stumps then I thought a little bit something funny about it, then it was a shock after that … it's my own fault."
(Reporting by Ian Ransom; Editing by Greg Stutchbury)