Soccer - Honda keen for Victory kickoff after 'weird' off-season
Comments
By Reuters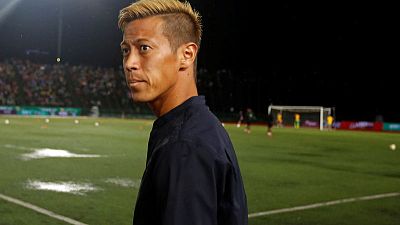 -
MELBOURNE (Reuters) – Former Japan midfielder Keisuke Honda is itching to kick off his Australian adventure with Melbourne Victory on Saturday after a long wait through the A-League's "weird" and "unique" pre-season.
As the league's highest profile signing, Honda arrived in Australia to much fanfare in August, but with A-League champions Victory eliminated from the pre-season FFA Cup early, the 32-year-old has barely kicked a ball in anger.
Instead, Honda has been through an extended training regime to regain fitness after playing in his third and final World Cup, while waiting for the local rugby league and Australian Rules football competitions to wind down.
Unlike many other nations, soccer is a summer sport in Australia and the A-League does not compete directly with other football codes in the country's crowded sports market.
"Everyone is waiting for the start of the season," Honda told local media.
"Australia has to finish the rugby season and now we start the soccer league. It's weird and it's unique," he added.
"But I'm getting to know Australian culture. It's nice."
Honda's first taste of league action will be a blockbuster derby against Melbourne City in front of roughly 40,000 spectators at Docklands Stadium.
As the 10-team competition's marquee player and a 98-cap international until he retired after the 2018 World Cup, his opponents will be well aware of his reputation and ability.
The reverse does not hold, however, and Honda admitted he had little knowledge of Saturday's opposition.
"To be honest, I don't follow a lot… I know Tim (Cahill) used to play at Melbourne City, right?" he said, referring to Australia's recently retired forward.
"Tactically, we're analysing and (coach) Kevin (Muscat) has told us a lot of things that they will do on Saturday.
"So I'm OK. I'm fine. I'm ready to play against them."
(Reporting by Ian Ransom; Editing by John O'Brien)