Party of Brazil's Bolsonaro open to centrist leadership of Congress
Comments
By Reuters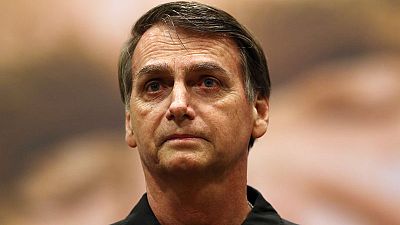 -
RIO DE JANEIRO (Reuters) – The party of Brazil's far-right presidential candidate, which made huge strides in legislative races this month, appears willing to accept congressional leaders from centrist parties as it seeks to build goodwill to pass tough legislation.
Jair Bolsonaro won 46 percent of votes on Oct. 7, forcing him into an Oct. 28 run-off against leftist rival Fernando Haddad of the Workers Party. With a growing lead in opinion polls, Bolsonaro believes the presidency is "within reach."
The former army captain's strong showing also lifted his party, the once-tiny Social Liberal Party (PSL), into the upper echelons of Brazil's political firmament, making it easier for him and congressional allies to pass laws to ease gun control and open up the economy.
In the wake of the first-round vote, the PSL's founder, federal congressman Luciano Bivar, had suggested that the party's impressive electoral performance gave it licence to seek the leadership of the lower house.
But those views appear to have softened, with party leaders now open to allowing centrist lawmakers to take the top jobs in both houses. If enacted, that stance could pave the way for a more harmonious coalition and ease the passing of potentially thorny legislation.
Gustavo Bebianno, the PSL president, said on Wednesday that it would be "anti-strategic" and an "inadequate concentration of power" to keep the lower house leadership in PSL hands, according to quotes published on the news website G1.
"We're 100 percent willing to negotiate the leadership of the lower house with other parties," Bebianno was quoted as saying. "Nobody is thinking about an authoritarian government."
The PSL won 52 seats in the lower house, trailing the Workers Party, which won 56. Bolsonaro's strong views on family values, the importance of the powerful agricultural sector and apparent willingness to liberalize the economy will likely help him build a broad coalition on the right.
In the Senate, where the PSL did less well, Simone Tebet, of the centrist Brazilian Democratic Movement (MDB) party, is increasingly being mentioned as a potential leader, according to a source with knowledge of discussions. Bolsonaro is also broadly in favour of her, according to a campaign source.
Bolsonaro, who has cut back campaigning as he recovers from a stab wound, ordered his team to step back from the limelight to avoid making public declarations that could hurt him, campaign sources told Reuters.
On Wednesday, he did not answer a question on whether he would attend presidential debates, in which he has tripped up under tough questioning in the past.
A 63-year-old, seven-term congressman, Bolsonaro has successfully pitched himself as the anti-establishment candidate, appealing to voters fed up with political graft and violent crime.
He has run an unorthodox campaign, relying on social media and grass roots rallies that have won him legions of fans who delight at his sharp words and Twitter putdowns.
Nonetheless, opinion polls show he is also widely disliked by many in the electorate who have been alienated by years of his misogynist, racist and homophobic comments.
(Reporting by Gabriel Stargardter, Eduardo Simoes and Ricardo Brito; editing by Grant McCool)