Michelin cuts market forecasts on EU emissions squeeze, China slowdown
Comments
By Reuters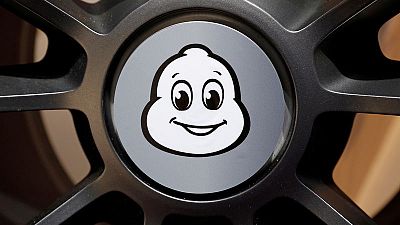 -
By Laurence Frost
PARIS (Reuters) – French tire maker Michelin <MICP.PA> cut its full-year market forecasts on Thursday and said a sales slowdown would worsen in the fourth quarter, blaming weaker Chinese vehicle demand and new emissions standards that have hit European registrations.
Michelin's own sales volumes are now expected to show only a "slight increase" for 2018, the company said. It had previously pledged to increase sales in line with more robust market growth expectations, in guidance reiterated on Sept. 13.
The fallout from slowing car- and truck-tyre demand in China and a European auto registrations slump linked to tougher new emissions tests has proven worse than expected, Chief Finance Officer Marc Henry told reporters on a call.
"All of these markets are going to be in decline by comparison with the forecasts we had made," he said.
The company posted a 5.2 percent increase in third-quarter revenue to 5.62 billion euros ($6.44 billion) as it reported sales four days earlier than planned.
But tire sales to carmakers fell 5 percent in China and Western Europe – where the tougher new Worldwide Harmonised Light Vehicle Test (WLTP) has led to model approval delays and withdrawals.
Michelin, which had earlier pledged to increase 2018 recurring operating profit, said its growth would amount to at least 200 million euros before exchange-rate effects.
But it slashed 2018 market growth forecasts to 0.5 percent for car tires, instead of the previously forecast 1.5 percent; and to a 1.5 percent decline in truck tires rather than a 0.5 percent expansion.
Truck tire demand is expected to shrink by 5-6 percent in the fourth quarter, Henry said, without giving any explanation for the earlier-than-scheduled results publication.
The company nevertheless reiterated its 2018 target of 1.1 billion euros in positive structural free cash flow goal.
(Reporting by Laurence Frost; Editing by Sudip Kar-Gupta and David Evans)