La Liga president says proposed tax reforms could see elite players leave
Comments
By Reuters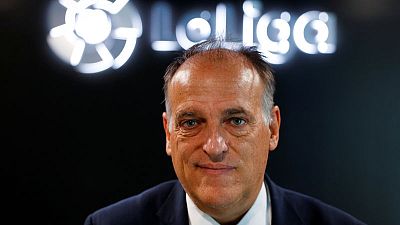 -
By Richard Martin
MADRID (Reuters) – La Liga risks losing some of its leading players if tax reforms proposed by the Spanish government go ahead, league president Javier Tebas has warned.
In a letter addressed to every club in Spain's top flight, seen by Reuters, Tebas declared the league's opposition to the government's budget draft for 2019 which he says could cost the 20 clubs a combined 80 million euros.
The proposed reforms include tax hikes of two percent for those earning more than 130,000 euros a year and an increase of four percent for incomes over 300,000.
"All these measures imply a negative impact on the accounts of clubs and affect more than 750 players and coaches," said the letter, signed by Tebas.
"Just the tax increases will lead to an impact of 80 million euros on the accounts of clubs, which could mean the departure of 20 elite players from our league."
For the highest earners, Spanish income taxes are calculated taking into account a fixed 22.5 percent maximum rate which corresponds to the Spanish central state and a variable rate set by the autonomous regions of up to 25.50 percent in the case of Catalonia or 21 percent in the case of Madrid.
Barcelona's Lionel Messi, the highest paid player in Spain, is currently subject to a rate of 48 percent, which would rise to 52 percent under the new proposals.
Real Madrid's top earner Gareth Bale, meanwhile, would be obliged to pay 47.5 percent.
Players in Spain typically negotiate contracts after tax, meaning the clubs rather than footballers would take the financial hit if the proposed tax rates are approved.
"As a result (of the proposed reforms), La Liga is designing a strategy to mitigate as much as possible the negative impact of these proposals," added the letter.
The 2019 budget proposal has been agreed between the minority Socialist government and the anti-austerity party Podemos but still needs support from regional parties in parliament to be passed into law.
The opposition conservative People's Party (PP) and Ciudadanos have said they would vote against the proposal.
Spain used to be regarded as a highly-attractive destination for the world's top footballers due to the so-called "Beckham law", which was in place between 2005 and 2010 and allowed foreign players to curb their taxes.
As the country's financial crisis deepened, however, that exemption was lifted, and many players, including Messi and former Real Madrid forward Cristiano Ronaldo, now of Juventus, were caught up in legal cases over taxes and transfers.
(Reporting by Richard Martin; editing by Jesús Aguado and Martyn Herman)