Election thumping on the cards for Merkel coalition parties - poll
Comments
By Reuters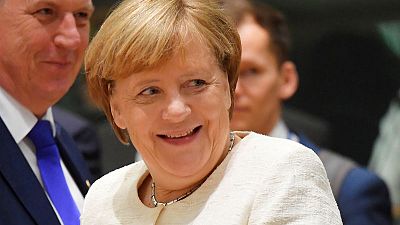 -
BERLIN (Reuters) – German Chancellor Angela Merkel's conservatives and the centre-left Social Democrats (SPD) both face a drubbing in a regional election on Oct. 28 that risks further weakening their crisis-prone national government, a poll showed on Thursday.
The drop in support for Merkel's Christian Democrats (CDU) to just 26 percent comes after their Bavarian sister party, the Christian Social Union (CSU), suffered its weakest election performance since 1950 in a state vote on Sunday.
Poor back-to-back results for Merkel's conservative alliance would weaken her before a CDU party conclave that is followed by the party's annual congress in early December. If she does not emerge well from those events, her opponents will be emboldened.
The survey by pollster Forschungsgruppe Wahlen for broadcaster ZDF showed support for the CDU sinking by several points from other recent polls ahead of the Oct. 28 vote in the western state of Hesse, home to financial centre Frankfurt.
The poll reading of 26 percent is also far below the 38.3 percent the CDU won at the last state election in Hesse in 2013, after which it formed a coalition with the ecologist Greens.
The poll showed support for the SPD falling to 20 percent – far below its result of 30.7 percent in 2013. The CDU and SPD would also lack a majority with which to rule.
The Greens will be the big winner in Hesse, the poll showed, jumping into second place with 22 percent support. However, support for the incumbent alliance of CDU and Greens was equal to that of the other parties, so they may need a third partner.
A so-called 'Jamaica' coalition of the CDU, Greens and FDP – whose colours match the Jamaican national flag – would be one option. Support for the FDP, and the far-left Linke, was at 8 percent each, the poll showed.
Negotiations on forming a Jamaica government at the national level collapsed earlier this year, forcing Merkel's conservatives and the SPD to renew their ruling coalition – a loveless alliance that had been plagued by infighting.
After the Bavaria election debacle, Merkel vowed to restore trust in her government. SPD leader Andrea Nahles said "something has to change" in the ruling coalition.
Support for the far-right Alternative for Germany (AfD), which hailed the Bavaria result as "an earthquake" that would rock the ruling coalition, was broadly steady in Hesse at 12 percent, the poll showed.
Forschungsgruppe Wahlen surveyed 1,035 voters in Hesse from Monday to Wednesday.
(Writing by Paul Carrel; Editing by Angus MacSwan)