Roche posts modest third quarter sales beat as new drugs offset biosimilar hit
Comments
By Reuters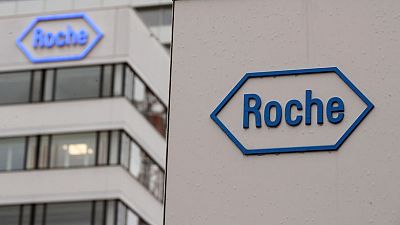 -
ZURICH (Reuters) – Roche's <ROG.S> third-quarter sales rose 7 percent, above analyst forecasts, as sales of new drugs including its multiple sclerosis therapy Ocrevus helped offset the impact that rivals' copies are having on the Swiss group's top-selling drugs.
Third-quarter sales rose to nearly 14 billion Swiss francs (£10.7 billion), compared to the average forecast of analysts of 13.8 billion francs in a Reuters poll.
Roche confirmed on Wednesday its outlook for 2018 sales to grow at a mid-single-digit rate. Core earnings per share, including benefits from U.S. tax reform changes, would grow in the mid-teen-digit percentages.
(Reporting by John Miller; Editing by Michael Shields)