Marquez eyes MotoGP crown on Honda's home turf
Comments
By Reuters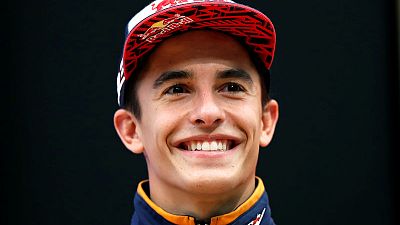 -
By Jack Tarrant
TOKYO (Reuters) – Marc Marquez knows his Honda team would love to celebrate winning the MotoGP title on home turf at the Japanese Grand Prix on Sunday but the Spaniard is offering no guarantees.
Victory at Motegi would seal a third consecutive MotoGP crown for the 25-year-old and tie him with Australian Mick Doohan as the third-most successful rider in history with five premier class world titles.
Only Italian pair Valentino Rossi (seven) and Giacomo Agostini (eight) have more.
Marquez is 77 points clear of Italian Andrea Dovizioso with four races, each offering 25 points for the win, remaining.
"I know and I understand that it will be really important for Honda to try and celebrate something big on Sunday," Marquez said at the firm's headquarters on Tuesday.
"But it will not be easy because Dovizioso is really, really good, really, really fast and he is very competitive."
Marquez, who could clinch the title even if he does not win on Sunday depending on where Dovizioso finishes, secured the 2014 and 2016 crowns in Japan, though his rival also has form at Motegi, winning last year's race.
Speaking at the fan event on Tuesday, Marquez said it was important to focus on the big picture — winning the title.
"We will try and win on Sunday but if it is not possible then we need to take points because in the end, our final goal, is about being at the top of the championship after the last race," he said.
"We need to keep on pushing and keep the same mentality, the same concentration, to get our final goal, our final dream, which is to be the world champion 2018."
Marquez and compatriot Jorge Lorenzo (2012, 2015), who will join him at Honda next season, have accounted for all the top titles since Australian Casey Stoner won in 2011.
Italian Rossi, who Marquez supplanted as the world's premier rider, won the last of his seven titles in 2009 and the 39-year-old Yamaha racer currently sits third in the championship.
Marquez said he has learned that success breeds success.
"The motivation is easier to keep when you are winning. It is easier to lose the motivation when you struggle," he added.
"When you are winning, your effort is compensated by the results and by great moments.
"It is more difficult if you have a season when you struggle a lot."
Qualifying begins on Saturday, with Sunday's race starting at 0500 GMT.
(Editing by Peter Rutherford)