France's Engie, Casino target large-scale rooftop solar
Comments
By Reuters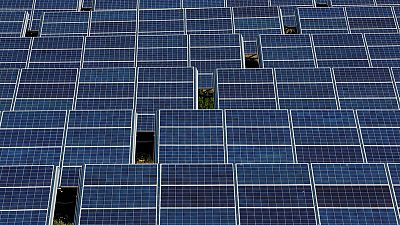 -
Copyright

Jean-Paul Pelissier(Reuters)
By Geert De Clercq
PARIS (Reuters) – French utility Engie <ENGIE.PA> and retailer Casino <CASP.PA> launched a joint venture on Wednesday that will invest some 100 million euros ($115 million) a year to build solar panels on the rooftops of supermarkets, hotels and hospitals in France.
Engie will work with Casino to install solar units with generating capacities of up to 1 megawatt (MW) on retail, industrial and municipal buildings, while continuing to build rooftop solar independently for private homes and large ground-mounted utility-scale solar farms.
The joint venture between Engie and Casino's solar unit GreenYellow is called Reservoir Sun and hopes to install about 100 megawatts (MW) of rooftop solar capacity per year in France, at a rhythm of about one new installation per day.
France currently has solar generating capacity of 7,660 MW.
"The potential of decentralised solar on rooftops is enormous," Engie chief executive Isabelle Kocher told reporters on Wednesday at a news conference to launch the venture.
Over the past decade Casino has installed rooftop solar on nearly all its own supermarkets, and in the past few years it has also started selling solar plants to third-party customers, including competing supermarket chains.
GreenYellow chief Otmane Hajji said the firm now has 1 million square metres of solar panels in operation, the equivalent of about 200 MW of generating capacity, of which about 80 percent is at Casino and the rest at customer sites.
He estimates that France has some 500 million square metres of rooftop space available for solar.
Excluding residential rooftop solar, GreenYellow estimates it has a 35 percent market share in France. Other players in industrial rooftop solar are Urbasolar, Quadran <TOTF.PA>, Engie and the renewables units of EDF <EDF.PA> and Total.
In a business model similar to Tesla <TSLA.O> unit SolarCity, the new Engie-Casino venture will finance, build and operate the solar panels and sell its customers electricity under long-term contracts at rates 10 to 15 percent below regulated power tariffs.
At the end of the contract, customers will own the panels.
Reservoir Sun will target customers with large and steady power consumption, but a typical installation will only cover about 20-30 percent of a client's power needs because storing power in batteries for nighttime use or selling excess power to the grid is not financially viable for now.
The decentralised power plants will have surface areas of 500 to 5,000 square metres, the equivalent of 50 to 500 parking spaces.
Last week, French investment fund Tikehau Capital and state holding company Bpifrance said they had jointly paid 150 million euros for a 24 percent stake in GreenYellow.
($1 = 0.8675 euros)
(Reporting by Geert de Clercq; Editing by Sudip Kar-Gupta, Ingrid Melander and Jan Harvey)