Canada's economy hitches a ride with U.S. expansion - Reuters poll
Comments
By Reuters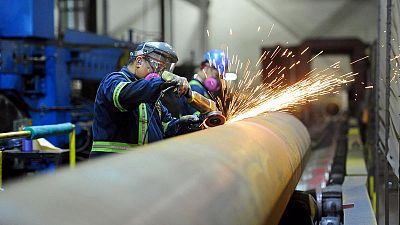 -
By Fergal Smith
TORONTO (Reuters) – Canada's economy will continue to grow faster than its potential over the coming quarters as U.S. fiscal stimulus boosts demand for its exports, setting the stage for more Bank of Canada interest rate hikes, a Reuters poll of economists showed.
Economists surveyed Oct 10-17 expect Canada's economy to grow at an annualised 2.1 percent pace or better in the final two quarters of the year, against forecasts for 2 percent growth in those quarters made in a July poll.
That would mark a slowdown from the 2.9 percent pace notched in the second quarter, but would beat the Bank of Canada's 1.8 percent estimate for 2018 of the clip that the economy would be able to expand without triggering inflation.
Stronger than potential growth would come from U.S. tax cuts and increased spending to boost its economy.
"The U.S. is also running close to potential but they are also adding $1 trillion worth of government debt per year to boost growth," said Nathan Janzen, senior economist at Royal Bank of Canada. "Some of that strength from the U.S. spills over to Canada."
Canadian exports climbed in the second quarter at the fastest clip since 2014, helped by increased demand for energy products and consumer goods.
A deal at the end of September to revamp the North American Free Trade Agreement has reduced the risk of Canada's exports being disrupted.
Nearly all economists who answered an additional question said the new USMCA trade agreement was more or less the same as NAFTA, so it may not have much impact on the economy's growth.
"Demand doesn't seem to be a problem in Canada right now; it's having the capacity to boost production," Janzen said.
Still, many firms are planning to increase investment spending in response to capacity pressures and anticipated strength in demand, a business survey by the Bank of Canada showed on Monday.
Near-record levels of business optimism and above-target inflation have supported economists' expectations for a Bank of Canada interest rate hike next week.
Canada's inflation rate dipped to 2.8 percent in August after reaching 3.0 percent in July, its highest in nearly seven years. Economists expect inflation to moderate further over the coming quarters but to remain above the central bank's target of 2 percent through the forecast period.
The Bank of Canada, which has raised its key policy rate four times since July 2017, is expected to raise it again by 25 basis points at the Oct. 24 announcement to 1.75 percent. It is then expected to tighten policy two more times in 2019.
But elevated levels of household debt could leave Canada's economy more sensitive than usual to higher interest rates.
Canada's household debt-to-income ratio rose to 169.1 percent in the second quarter, near a record high.
Rising interest rates and slowing global growth will moderate the outlook for Canada's economy from 2019, said Benoit Durocher, a senior economist at Desjardins.
Last week, the International Monetary Fund cut its forecast for global economic growth in 2018 and 2019 due to the wider impact of the U.S-China trade war.
Canada exports many commodities and runs a current account deficit, so its economy could suffer if global growth slows.
Economists expect the deficit to shrink from 2.8 percent of gross domestic product in 2018 to 2.4 percent in 2019.
(For other stories from the Reuters global long-term economic outlook polls package see)
(Polling by Kailash Bathija; Editing by Ross Finley and Bernadette Baum)