Peru detains opposition leader's top advisers at political rally
Comments
By Reuters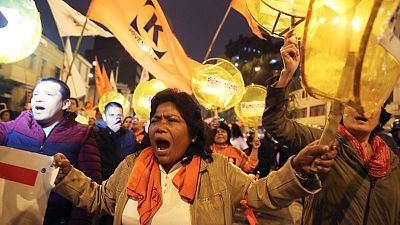 -
LIMA (Reuters) – Peruvian police detained two top advisers of jailed opposition leader Keiko Fujimori at a political demonstration on Monday, deepening a crisis at the heart of the country's most powerful conservative movement.
Hundreds of people chanting "Keiko is innocent" marched through downtown Lima to protest against Fujimori's arrest last Wednesday pending charges in a money laundering investigation.
Ana Herz and Pier Figari, Fujimori's top political strategists, were arrested at the demonstration, Ursula Letona, a lawmaker of her party, told journalists.
"They were arrested in the middle of the march," Letona said in comments on domestic broadcaster RPP. "I'm upset. We're victims of the arbitrary arrests of our party leaders."
Reuters could not immediately reach attorneys for Herz and Figari to seek comment.
Their arrests were the latest blow to the conservative movement built by former autocrat Alberto Fujimori, Fujimori's father, during his decade in power from 1990 to 2000.
Since his imprisonment for human rights crimes in 2007, Keiko has led her father's political following. But she failed to win the presidency twice and has seen her popularity plummet as the head of the opposition party that runs Congress.
Fujimori denies any wrongdoing and has said her arrest is part of broader campaign of political persecution against her party and family.
This month, a judge annulled a presidential pardon that had freed Alberto Fujimori from prison late last year. He has been hospitalized since the ruling was announced.
Fujimori's troubles could give President Martin Vizcarra an upper hand in working with Congress, which pressured his predecessor, Pedro Pablo Kuczynski, to resign over graft accusations in March.
Prosecutors allege Fujimori led a criminal organization that sought to use her 2011 presidential campaign to launder illegal funds for Odebrecht, a Brazilian construction group at the centre of the region's biggest graft scandal.
Fujimori and her party deny ever taking money from Odebrecht.
(Reporting by Marco Aquino and Mitra Taj; Editing by Clarence Fernandez)