Italy talks up its expansionary budget as clash with EU looms
Comments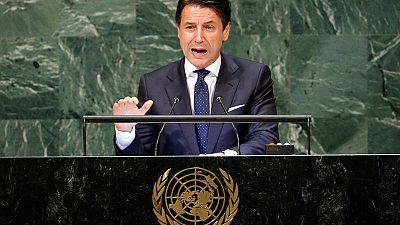 -
By Angelo Amante and Crispian Balmer
ROME (Reuters) – Italian Prime Minister Giuseppe Conte said on Tuesday he was proud of his government's freshly approved expansionary budget while the European Commission warned it may run into opposition from euro zone partners.
Italy's governing coalition of the right-wing League party and anti-establishment 5-Star Movement vow not to backtrack, saying their big-spending plan is needed to boost growth and tackle worsening poverty in the euro zone's third-largest – but most sluggish – economy.
On Monday night the coalition approved the 2019 budget bill that boosts welfare spending, cuts the retirement age and hikes deficit spending.
The weeks of wrangling that preceded the budget's approval and the previously announced plan to raise the deficit took markets on a roller coaster ride, but its passage by Conte's cabinet seemed to be saluted with relief.
Italian government bond yields dropped across the board, and the gap between the yield on the 10-year benchmark and its German equivalent narrowed.
"We are convinced that austerity is a path that can no longer be followed," Conte told parliament ahead of a European Union summit later this week where his peers are expected to ask him about the budget.
Conte said he would seek to explain the government's strategy to European partners in a dialogue "without prejudice".
Next year's projected 2.4 percent of output deficit is well below the EU's 3 percent ceiling – a policy to discourage member states from going down a path of unsustainable spending – but it is up sharply from a targeted 1.8 percent this year.
This contravenes EU regulations that call on Italy and other highly indebted countries to steadily narrow the shortfall towards zero.
EU DISQUIET
"If we accepted everything that the Italian government was proposing, we would see a virulent counter-reaction from other euro zone countries," European Commission President Jean Claude Juncker told reporters in Brussels.
Ralph Brinkhaus, the group leader of Angela Merkel's conservative party in the German parliament, signalled that Berlin was worried.
"It's with concern that we are looking at Italy, especially because of its budget. We have full confidence that the European Commission will handle the question in the way imposed by the treaties," Brinkhaus told reporters in Berlin.
The commission now will have two weeks to review Italy's fiscal plans underpinning the budget. It could reject them completely and ask Rome to rewrite them, an unprecedented step that would formally begin a long dispute.
But Juncker also cautioned against creating too much furore over Italy's budget, as did Mario Centeno, who heads the euro zone finance ministers' Eurogroup.
"I don't want us to overdramatise this budget issue, but I want us to return to the application of the EU rules, not in a strict fashion, but in a fair and wise way," Juncker said.
"The euro is built on decisions taken at many various moments and places. Italy's budget is just one of those moments and events," Centeno said in a news conference in Lisbon.
Claudio Borghi, the League's often pugnacious economic spokesman, struck an unusually conciliatory tone on Tuesday.
"I do hope that at the end the war of words (will end) and that good sense will prevail and everyone will notice that this kind of budget is exactly what Italy needs to cope with its chronic lack of growth," he said in a televised interview with CNBC.
The Italian government is also set to introduce a more punitive tax regime for banks, heightening pressure on a sector that is suffering due to a spike in the country's debt costs under the populist government.
(Additional reporting by Gavin Jones and Giulia Segreti in Rome, Sergio Goncalves and Andrei Khalipby in Lisbon, and Tassilo Hummel in Berlin, writing by Steve Scherer, editing by Mark Heinrich)
euronews provides breaking news articles from reuters as a service to its readers, but does not edit the articles it publishes. Articles appear on euronews.com for a limited time.