Merkel allies suffer huge losses in Bavaria as Greens and AfD make gains
Comments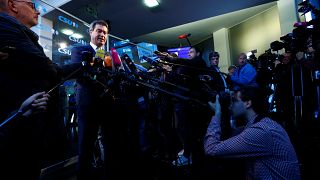 It was a bad night in Bavaria for Angela Merkel's allies the Christian Social Union. They've fallen to below 40% of the vote, losing their absolute majority which they've held in the state almost consistently since the second world war.
CSU Party Leader Horst Seehofer told supporters that "it is not a good day for us the Christian Social Union" he said. "But on the other side the Bavarian voters gave us a clear mandate to build a new government for Bavaria and we will assume this responsibility," Seehofer added.
The Social Democrats who are Chancellor Merkel's other ally in her fragile coalition in Berlin also lost support failing even to reach a double-digit percentage share of the vote.
But for the Green Party, it was a different story altogether. They've emerged as the night's big winner, doubling their tally to over 18% to become the second biggest party in the Bavarian parliament.
Their leader Katharina Schulze worked the members into a frenzy as the results became clear with one fan saying "I have waited for 36 years for this kind of result. And now I'm really happy that I got to live through it."
The CSU's hard line on immigration seems to have alienated liberals and failed to heed off the far-right. The AfD accrued enough votes to enter the state assembly for the first time. Leader Alice Weidel spoke of a new age for German politics "There is no longer a 'grand coalition' in Berlin, it's now a mini-coalition which no longer represents the will of voters in any way. Therefore: clear the way for new elections."
The CSU will now need to form a coalition which to some is seen as a humiliation for a party used to ruling alone. But more to the point the results have sent a shock wave all the way to Berlin.