Business jet show kicks off amid optimism over U.S. tax cut-spurred demand
Comments
By Reuters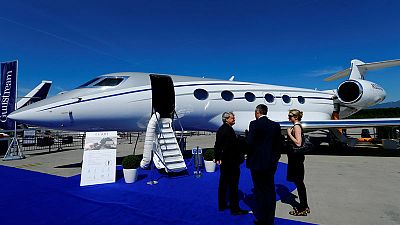 -
By Allison Lampert
ORLANDO, Fla. (Reuters) – The latest trends in corporate jets, from high-end technology to hot showers at 40,000 feet, are on display at a flagship industry show in Orlando this week, where planemakers expect booming demand, helped by U.S. President Donald Trump's changes to the tax code.
After years of sluggish sales, new models of business jets featuring longer ranges and elements like high-speed Wifi are attracting buyers. Others are weighing the advantage of tax deductions for new and pre-owned aircraft used for business, planemakers and forecasters said ahead of the Oct. 16-18 convention.
The world's largest market for executive aircraft is the United States, where Democrats have criticized Republican Trump's recent tax changes as benefiting the wealthy while risking cuts to social security and healthcare.
But for private jet makers, optimism is in the air, following years of weak sales in the wake of the 2008 financial crash.
Tax changes that allows deductions for corporate jets have traditionally stimulated demand for pre-owned planes, "which then carries over to new aircraft sales," David Coleal, president of Bombardier Business Aircraft, said by email.
Coleal said estimates show the industry's new aircraft orders in the first half of 2018 outpaced the previous three years, due in part to the "increasingly positive U.S. climate for business jets."
Canada's Bombardier Inc <BBDb.TO> does not divulge orders for specific planes. Still, forecasters point to a decline in supply of recent-model executive jets as a sign that new orders will be rolling in.
A 10-year outlook by Honeywell Aerospace <HON.N> ahead of the Orlando convention forecasts up to 7,700 new business jet deliveries worth $251 billion from 2019 to 2028, up 1 to 2 percentage points from the 2017 10-year forecast.
Honeywell expects an 8 to 10 percent rise in delivery levels in 2019, compared with a flat 2018, fuelled by the recent entry into service of new aircraft like Bombardier's Global 7500 and Gulfstream's G500, part of General Dynamics <GD.N>.
New orders are also underpinned by dwindling bargains for pre-owned aircraft, where prices are creeping higher after years of declines. This is giving buyers less of an incentive to purchase used, said Gaetan Handfield, senior manager marketing analysis at Honeywell Aviation.
"I hear stories about buyers who were seeking a young pre-owned aircraft who eventually ended up … at the (planemaker's) front door," said U.S. aerospace analyst Rolland Vincent. "We are hearing that buyers who see something they like are having to move more quickly than before."
He said pre-owned planes are selling about 8 percent faster this year. Planes spent about 314 days on the market between January and August 2017 versus 289 days for the same period in 2018.
Still, Vincent warned business jet makers not to increase production, for fear of weakening prices.
"What I am hopeful for is that we see discipline in any acceleration of production rates as the tide turns – pricing and residual values have a long way to go to bounce back to the paths they were on some years ago."
(Reporting by Allison Lampert; editing by Tracy Rucinski and Rosalba O'Brien)