BP says price controls "not good", days after India cuts cost of fuel
Comments
By Reuters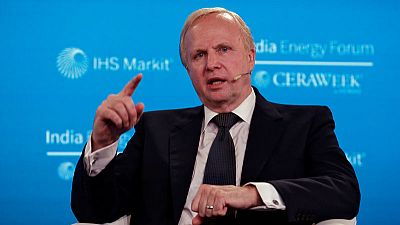 -
By Promit Mukherjee and Sudarshan Varadhan
NEWDELHI (Reuters) – Global oil major BP <BP.L> said on Monday fuel price controls are "not good", days after India asked state-run fuel retailers to shield customers from record-high costs by cutting margins.
BP has a tie-up with Reliance Industries <RELI.NS>, owner of the world's biggest refining complex, to enter India's downstream sector including retail fuel sales.
"Price controls will not be good for the fuel sector," Dudley said at the IHSCERA conference. He declined to say when BP would open its first fuel retail outlet in India in partnership with Reliance.
India cut taxes on diesel and gasoline this month and asked state companies, which account for the bulk of retail fuel sales in the country, to reduce marketing margins after a public backlash against record-high pump prices.
The move was widely seen as government intervention in local fuel pricing, although Finance Minister Arun Jaitley and Oil Minister Dharmendra Pradhan had said the step should not be seen as going back to a regulated regime.
The government has since said it would not interfere with market-determined prices of gasoline and diesel.
BP, which has tied up with Reliance to explore gas fields in India, expects to have a 10 percent gas market share by 2022, Dudley said, adding that he expects BP India's gas production with Reliance to be 1 billion cubic feet in five years.
Dudley said slow decision-making had in the past curbed its investment in the country and was not good for "brand India".
(Reporting by Promit Mukherjee; Editing by Dale Hudson)