Australia considers recognising Jerusalem as Israel's capital
Comments
By Reuters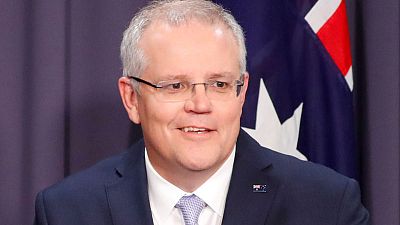 -
SYDNEY/JERUSALEM (Reuters) – Australia will consider recognising Jerusalem as Israel's capital and shifting its embassy there from Tel Aviv, Australia's Prime Minister said on Tuesday.
The status of Jerusalem is one of the thorniest obstacles to a peace deal between Israel and the Palestinians. Israel regards all of the city, including the eastern sector that it annexed after the 1967 Middle East war, as its capital.
Last December, U.S. President Donald Trump reversed decades of U.S. policy by recognising Jerusalem, enraging the Palestinians and upsetting the Arab world and Western allies.
Australia was firm in its refusal to follow suit at the time, however Prime Minister Scott Morrison told reporters in parliament he was now "open-minded" about doing so, while not changing Australia's policy of support for a Palestinian state.
"The orthodoxy that's driven this debate which says issues like considering the question of the capital are taboo. I think we have to challenge that," Morrison said.
"The whole point of a two-state solution is two nations recognised living side by side," he added, saying he was open to the suggestion from Dave Sharma, Australia's former ambassador to Israel, that Australia support West Jerusalem as Israel's capital and East Jerusalem as Palestine's.
"No decision has been made in regarding the recognition of a capital or the movement of an embassy … but at the same time, what we are simply doing is being open to that suggestion."
The U.S. Embassy became the only foreign embassy in Jerusalem in May, and Guatemala and Paraguay followed Washington's lead days later and also moved their embassies, although Paraguay returned its mission to Tel Aviv last month. Israel closed its embassy in Asuncion in response.
The Palestinians, with broad international backing, want East Jerusalem as the capital of a future state that they hope to establish in the occupied West Bank and the Gaza Strip. Peace talks between the parties broke down in 2014.
Israeli Prime Minister Benjamin Netanyahu has attempted to persuade other countries to move their embassies to Jerusalem.
Sharma, who was ambassador to Israel between 2013 and 2017, is on Saturday standing as a candidate for Morrison's ruling Liberal Party in a crucial by-election in Sydney.
Morrison also said Australia would review its support for the Iran nuclear deal, under which sanctions were lifted in return for restraints on its nuclear programme "to determine whether our current policy settings remain fit for purpose".
Trump decided in May to abandon the pact and to restore economic sanctions on Iran, including those that seek to force the OPEC member's major oil customers to stop buying Iranian crude.
(Reporting by Tom Westbrook and Wayne Cole in SYDNEY and Ori Lewis in JERUSALEM; Editing by Kevin Liffey and James Dalgleish)