Kuroda says BOJ will use interest rates to signal exit from easy policy - Bloomberg
Comments
By Reuters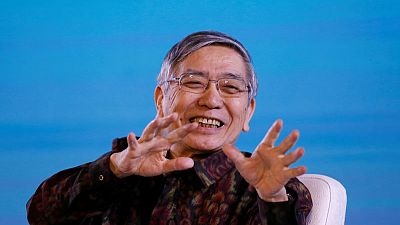 -
NUSADUA, Indonesia (Reuters) – When the Bank of Japan is ready to signal the start of an exit from its massive monetary stimulus, the shift will be seen in interest rates, its main policy target, BOJ Governor Haruhiko Kuroda told Bloomberg in an interview on Saturday.
"When 2 percent inflation target is met or is close to be met, of course we can change the target, the monetary operating target of interest rate," Kuroda said, when asked how the BOJ would signal an exit from ultra-easy policy.
"At this moment, inflation is only 1 percent, so we will continue the current yield curve control at the current level of interest," he was quoted as saying by Bloomberg.
Kuroda added that market players should not focus on the amount of government bonds the BOJ purchases, as they are no longer the central bank's policy target.
Under a yield curve control (YCC) policy, the BOJ guides short-term interest rates at minus 0.1 percent and the 10-year government bond yield around zero percent to achieve its elusive 2 percent inflation target.
The central bank also has a loose pledge to buy government bonds so its balance of holdings increase around 80 trillion yen (£542 billion) per year.
But the BOJ's actual purchases have fallen to roughly half that level, as its huge buying dries up market liquidity.
(Reporting by Leika Kihara; Editing by Muralikumar Anantharaman)