U.S. banks profit from higher rates, more loans and lower costs
Comments
By Reuters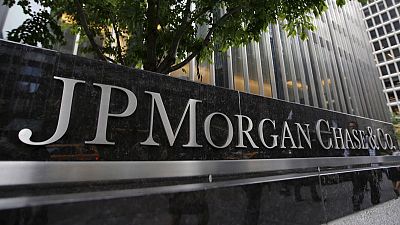 -
By David Henry and Imani Moise
NEWYORK (Reuters) – The U.S. banking industry is enjoying the benefits of a growing economy and lower taxes, and three of the largest lenders reported double-digit profit growth on Friday.
The results reflected an array of positive business factors for banks. Their net interest margins – the difference between what they pay on deposits and what they charge on loans – have widened. Other key businesses, like managing customers' wealth or providing treasury services for corporations, are generating consistent fees that pad the bottom line.
Banks also are getting a lift from cost-cutting programs they implemented after the 2007-2009 financial crisis, as well as tax cuts signed into law by President Donald Trump last year. Combined, those factors are saving the industry billions of dollars each quarter.
"Wages are going up. Participation is going up. Credit that's been written is pristine. Housing is in short supply. Confidence – both small business, consumers – is extraordinary high, and that could drive a lot of growth for a while despite some of the headwinds out there," JPMorgan Chase & Co <JPM.N> Chief Executive Officer Jamie Dimon told analysts on a conference call.
While the rising economic tide is lifting all banking boats, some are benefiting more than others.
JPMorgan, the biggest U.S. bank, said its third-quarter profit jumped nearly 25 percent, with each of its four business units generating higher revenue.
Citigroup Inc <C.N>, the No. 3 U.S. bank by assets, reported a 12 percent rise in profit, driven mostly by lower taxes and cost savings.
Wells Fargo & Co <WFC.N>, the fourth-largest in the sector, reported a 32 percent gain in profit. The bank cited strong demand for auto, small business and personal loans, as well as cost cutting.
Although business conditions are generally good for the banking industry, results were not uniformly impressive to analysts and investors.
Wells Fargo is still struggling with the effects of a wide-ranging sales scandal that erupted more than two years ago, and its mortgage business is suffering from a sharp downturn in refinancing. Even as it reported a big jump in profits, its earnings per share missed estimates by a penny.
JPMorgan's bond trading business had a 10 percent fall in revenue compared with the year-ago period. The business has faced challenges across Wall Street for several years due to new regulations and changes in customer preferences. JPMorgan's finance chief, Marianne Lake, said increased competition has made it harder to hold onto market share at a time when margins are thinning out.
Dimon discussed several concerns that could dent the industry's profitability. Geopolitical tensions, Brexit and inflation are real threats, he said.
Dimon said short-term rates could go up to 4 percent as central bankers try to prevent higher inflation, and he is not sure Wall Street is ready. This week, the Dow Jones Industrial Average fell 800 points, with analysts citing concerns about U.S. Federal Reserve policy.
"The market may not take it that well if rates go up," Dimon said.
Wells Fargo shares were last up 1.2 percent to $52.05, Citigroup shares were up 1.3 percent to $69.30 while JPMorgan shares lost 0.8 percent to $107.29.
(Reporting by David Henry and Imani Moise in New York; Additional reporting by Sweta Singh and Siddharth Cavale in Bengaluru; Writing by Lauren Tara LaCapra; Editing by Meredith Mazzilli)