Japan's exports seen slowing after natural disasters, core CPI up slightly - Reuters poll
Comments
By Reuters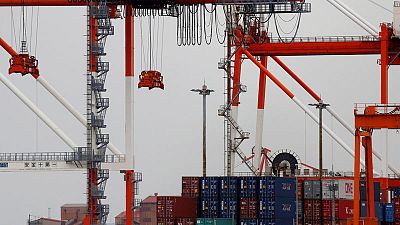 -
TOKYO (Reuters) – Japan's export growth was seen slowing in September after a series of natural disasters disrupted business activity, a Reuters poll found on Friday, but the setback was seen as temporary.
Exports were expected to increase 1.9 percent in September from a year earlier, the poll of 17 economists showed, after rising 6.6 in August.
Imports were seen up 13.7 percent in September from a year earlier led by higher oil prices. The trade deficit was forecast at 50.0 billion yen (£336.2 million).
Deadly typhoons and flooding in western Japan and earthquakes in the northern island of Hokkaido disrupted production and distribution.
"Exports likely slowed down temporarily in September due to supply constrains but they are expected to return the trend of moderate growth we've seen before the natural disasters," said Koya Miyamae, senior economist at SMBC Nikko Securities.
"We also need to closely monitor any impacts from trade friction between the United States and China on Japan's exports."
Analysts say there have been no clear signs of adverse effects on Japan's exports from the escalating U.S.-China trade conflict so far.
Japan and the United States agreed last month to start fresh trade talks, with Washington agreeing to put any new tariffs on auto imports on hold while talks were underway.
Even so, U.S. President Donald Trump wants to address Japan's $69 billion trade surplus with the United States, nearly two-thirds of which comes from auto exports, a key economic driver for Japan.
The finance ministry will issue the trade data at 8:50 a.m. Tokyo time on Oct. 18 (2350 GMT, Oct. 17).
Another focus next week will be the core consumer inflation rate for September, which is expected to have risen slightly.
The nationwide core consumer price index (CPI), which excludes fresh food prices but includes fuel costs, was seen rising 1.0 percent in September from a year earlier and up slightly from 0.9 percent in August.
"Price gains in electricity and gasoline due to higher oil cost likely contributed to the core CPI gain, but the prices of other items remained subdued," said Takumi Tsunoda, senior economist at Shinkin Central Bank Research Institute.
The government will publish the CPI data on Oct. 19 at 8:30 a.m. (2330 GMT, Oct. 18).
(Reporting by Kaori Kaneko, editing by Eric Meijer)