Irish opposition tells PM to remove election threat from talks
Comments
By Reuters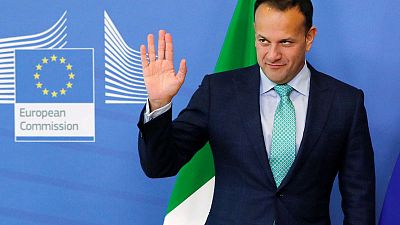 -
DUBLIN (Reuters) – Ireland's main opposition party urged Prime Minister Leo Varadkar to remove the threat of a snap election from talks to renew their government deal until any Brexit agreement has been ratified by the British parliament.
Varadkar's Fine Gael party formed a minority government in 2016 under the "confidence and supply" deal with the largest opposition party, Fianna Fail, which agreed to abstain from opposition-driven votes over the course of three annual budgets.
The parties agreed to initiate talks after the last of those budgets this week and while Varadkar has said he wants to extend the deal until mid-2020, he could also seek to capitalise on Fine Gael's increased popularity with a snap election.
However talks over Britain's divorce deal with the European Union that hinge on the future management of the Irish border complicate the timing of any potential election in Dublin and Fianna Fail's leader sought to remove that option on Friday.
"In light of recent developments and as we head into this critical period on Brexit I think it is best if we both state upfront, irrespective of what happens during the confidence and supply review process, that we both agree not to bring down the government," Micheal Martin wrote in a letter to Varadkar, published on Friday.
"We should both agree to pass the (Irish budget) Finance Bill and other legislation at least up to the point where, whatever is agreed by the European Council on Brexit, in the coming months, has cleared the critical hurdle of ratification by the House of Commons and the European Parliament."
"An election during this critical time would create dangerous instability during a period when the Brexit deal could be derailed by the constantly changing situation in Westminster."
If Brexit negotiators manage to reach an agreement by next month, it still faces a major hurdle in the weeks that follow in passing through the British parliament, where Prime Minister Theresa May's minority government has a shaky hold on power.
(Reporting by Padraic Halpin; Editing by Janet Lawrence)