Euro zone industrial output rebounds more than forecast in August
Comments
By Reuters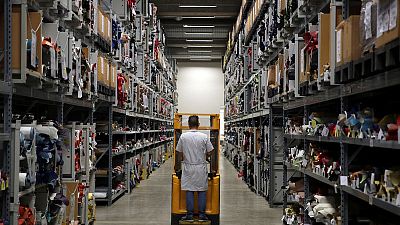 -
BRUSSELS (Reuters) – Production at factories in the euro zone increased in August by more than forecast, reversing the negative trend of the previous two months in what could prove a boost for the bloc's economic growth in the third quarter, data released on Friday showed.
The European Union statistics agency Eurostat said industry output in the 19-country currency bloc was up in August by 1.0 percent on the month and by 0.9 percent year-on-year.
Both figures are a positive surprise after economists polled by Reuters had forecast a smaller 0.4 percent rise month-on-month and a 0.2 percent drop from a year earlier.
The monthly production growth in August reversed declines in June and July, which had strengthened the view of a slowdown in the euro zone's economy into and in the third quarter, hit by global trade tensions and falling economic sentiment.
The bloc grew by 0.4 percent in the two first quarters of the year. Eurostat will release its preliminary flash estimate of euro zone's growth in the third quarter on October 30.
Eurostat also revised up its previous estimates for industrial production in July. It said on Friday that output fell by 0.7 percent on the month instead of the 0.8 percent drop estimated earlier. Year-on-year, production increased by 0.3 percent instead of falling by 0.1 percent.
The August output growth on the month was driven by a 1.9 percent rise in energy production, data showed.
The production of durable consumer goods, like cars and fridges, also increased by 1.5 percent, partly offsetting its 1.9 percent drop of the previous month.
The surprising large increase in the output in a summer month was also due to a 1.4 percent rise in the production of non-consumer goods, like clothes, and of capital goods, such as machineries, which tend to indicate managers' growing appetite for investments.
The overall increase came despite no expansion of industrial output in Germany, the euro zone's largest economy, Eurostat data showed. The figures are not the same as those already reported by Germany, which showed a slight fall in August, but a less pronounced decline in July.
(Reporting by Francesco Guarascio; editing by Philip Blenkinsop)