Competition watchdog to study British Airways alliance
Comments
By Reuters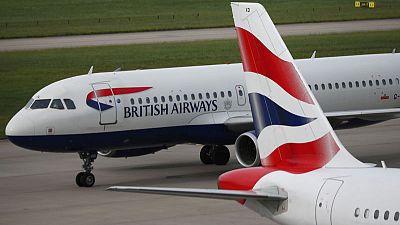 -
LONDON (Reuters) – Britain's competition watchdog will investigate a partnership between British Airways and other airlines on transatlantic routes ahead of the 2020 expiry of a previous deal, the regulator said on Thursday.
British Airways, American Airlines <AAL.O>, Iberia and Finnair <FIA1S.HE> form the Atlantic Joint Business Agreement, a revenue-sharing joint venture that covers routes between Europe and North America and allows the partners to co-operate on pricing, capacity and schedules.
The Competition and Markets Authority (CMA), however, said it would open an investigation of the agreement, adding that the case is at an early stage and no assumption should be made that partnership infringes competition law.
Shares in IAG <ICAG.L>, which owns British Airways and Iberia, fell 2.3 percent to 577 pence at 0947 GMT, their lowest for a year and underperforming Britain's blue-chip index, which was down 1.7 percent.
The CMA said it had decided to study the partnership because commitments made by the airlines on six routes after a previous European Union competition investigation is due to expire in 2020.
By that time, the UK will no longer be part of the EU, potentially removing the oversight of the European Commission, prompting the CMA to launch its investigation because five of the six routes involve London.
The CMA said the new investigation would apply both and EU law.
Royal Bank of Canada (RBC) analysts said the planned investigation could affect BA parent firm IAG because it could encourage IAG to take "a more muted response to lifting fares" on Atlantic routes that are key to the company's profits.
It could also deter IAG from any potential takeover of low-cost rival Norwegian <NWC.OL>, in which it owns a 4.6 percent stake and has said it would be interested in buying.
"The CMA review also potentially constrains and complicates scope for a 'rescue' takeover of Norwegian by IAG – maybe opening the field for Lufthansa <LHAG.DE> to consider further action," RBC analyst Damian Brewer said.
IAG Group said in a statement that it would respond to the review.
Compared to the market in 2010, the BA alliance now has a stronger rival after Britain's Virgin Atlantic [VA.UL] and U.S. carrier Delta <DAL.N> are teaming up with Air France-KLM <AIRF.PA> on their own transatlantic revenue-sharing venture.
(Reporting by Sarah Young; Editing by David Goodman)