Euro zone bailout fund head - no reason to expect Italy to lose market access
Comments
By Reuters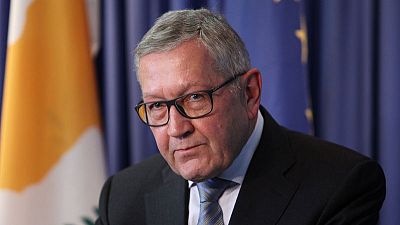 -
By Francesco Canepa and Jan Strupczewski
NUSADUA, Indonesia (Reuters) – There is no immediate danger of Italy losing market access or being downgraded below investment grade because the Italian economy has underlying strengths, the head of the euro zone bailout fund ESM Klaus Regling said on Thursday.
In a panel discussion at an event at the International Monetary Fund meetings in Bali, Indonesia, Regling was responding to a question on what would happen if Italy lost market access like Greece did in 2010, triggering the sovereign debt crisis in Europe.
"There is no immediate danger for Italy to lose access to the markets, there is no immediate danger of it being downgraded below investment grade, they are still two notches above," Regling said.
Regling noted that during the Greek debt crisis, Italy never lost market access because of the underlying strengths of its economy.
"Despite the high debt levels, the fiscal deficit was never excessively high, the primary surplus was quite sizeable, Italy has a current account surplus and Italian private domestic savings are very strong, and a large share of Italian government bonds are in the hands of residents," Regling said.
Italy's populist government raised market concern when it announced two weeks ago a plan to raise its headline budget gap to 2.4 percent of gross domestic product in 2019 and keep it there in 2020 and 2021.
This would mean also a higher structural deficit – the balance which excludes one offs and business cycle effects – and higher debt in a country which already has a debt to GDP ratio of 133 percent, the second highest in Europe.
"I don't like the announcements on fiscal targets for the next three years because they are not in line with the European fiscal framework which was adopted by all governments including the Italian government at the time," Regling said.
Pressure from investors selling Italian debt and from euro zone peers made Rome lower the deficit targets for 2020 to 2.1 percent and to 1.8 percent in 2021, but euro zone officials said it was not nearly enough, as Italian debt would still rise.
"We already saw that the Italian government made some adjustments during the last few weeks, so I hope this is not the end of the story," Regling said.
"But at the same time, let's not forget that there are some underlying strengths so there is no reason to immediately expect now the worst," Regling said.
Italian benchmark 10-year bonds <IT10YT=TWEB> still held at 4.5 year highs of 3.543 percent on Thursday, though slightly off the peak of 3.697 percent on Tuesday.
(Reporting By Francesco Canepa and Jan Strupczewski; Editing by Shri Navaratnam)