Bulgarian mother says her son killed TV journalist - report
Comments
By Reuters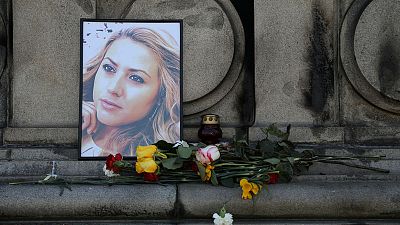 -
SOFIA (Reuters) – The mother of the 20-year-old man arrested in Germany over the rape and murder of Bulgarian TV host Viktoria Marinova said her son had admitted his guilt to her, Bulgarian TV channel NOVA said on Thursday.
"He admitted he did it while drunk and heavily on drugs," Nadezhda Krasimirova, told NOVA TV's reporter in Germany, where she lives. "He admitted and started to cry in front of me. He is not like that, I cannot grasp it," she added.
Bulgarian prosecutors have charged Severin Krasimirov in absentia for the rape and killing and sought his extradition from Germany to stand trial in Bulgaria.
The body of the 30-year-old Marinova, a host of a regional current affairs show at a local TV station, was found dead in a park near the Danube river city port of Ruse on Saturday. Police said she had been raped, beaten and strangled.
Her brutal killing has shocked Bulgarians and revived the debate over the extent of press freedom in the Balkan country.
(Reporting by Tsvetelia Tsolova; Editing by Raissa Kasolowsky)