This Italian man opened his home to migrants
Comments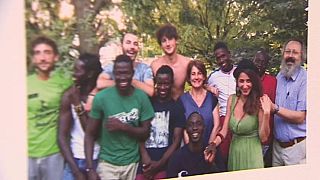 At a time when EU countries are divided over the need or not to pursue open door policies. An Italian philosophy teacher Antonio Calò - who 3 years ago gave up his house in a small town in Veneto to accommodate 6 African migrants has been awarded the 2018 European Citizen's prize.
Back in 2015, when it all began, Antonio Calo' would never have imagined what happened today. For opening his home to migrants, the Italian philosophy teacher has been granted one of Europe's most prestigious awards: the European Citizen's Prize 2018. Calo was invited over to Brussels to collect it in person. 50 people in total from 26 different countries have been given the award for projects that express the values of the European Union. Three years ago Mr Calo gave shelter to 6 migrants. An experience he says - one can greatly learn from.
"History teaches us that today other people are in need but tomorrow it might be us that asks for help. We should never forget this. We can live in peace now thanks to Europe, and this peace is based on the fundamental principle of tolerance. If Europe loses this, we'll lose our identity and that will be the end." Calo said.
We met the Calo's family in Camalò in the northern region of Veneto. A small town of about 2.000 people where the teacher's four children have been living with the 6 migrants. The family didn't just provide them with a place to stay, but also with the skills and the necessary training to be able to be integrated into society. Today, all of them have a job.
Antonio and his wife Nicoletta now live in a house that is part of a local church and when he explained to us how it all started he recalled the very day he realised he could not keep watching migrants dying at sea. he had to something
Today Mr Calo's hope - thanks to this achievement - is to replicate the model in 6 different European countries. But the story so far hasn't been straightforward.
Veneto region is one of the League's party main strongholds and here social integration doesn't come easy.
Roberto Cimabetti a local League member who is also President of the regional council told Euronews Calo's case could heighten social tensions which are likely to explode one day.