Scrap deficit targets, focus on debt: EU fiscal advisers say
Comments
By Reuters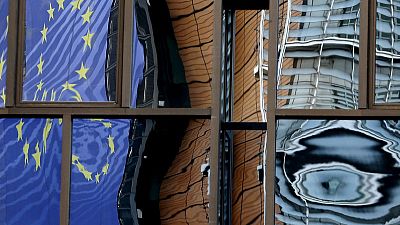 -
By Francesco Guarascio
BRUSSELS (Reuters) – The European Union should change its budget rules to make them more effective in bringing down public debts, EU fiscal advisers said in a report on Wednesday, urging the bloc to scrap deficit targets for countries where debt is falling.
The publication of the report coincides with a row between Italy and Brussels over the country's 2019 budget, in which the eurosceptic Italian government plans to flout EU fiscal rules to fulfill electoral promises of government largesse.
The European Fiscal Board, which advises on the EU's supervision of member states' budgetary plans, said the existing budget rules are too complex and have largely failed to improve the long-term sustainability of public finances in several EU states.
The report highlighted that improvements in EU countries' fiscal positions in past years largely came from higher growth. It also said that an opportunity to reduce high debt levels faster was missed.
The Fiscal Board's report suggested getting rid of existing deficit targets, which require structural adjustments and a nominal ceiling of 3 percent of the gross domestic product. Instead, the Commission should focus exclusively on reducing the debt, the report said.
"The debt-to-GDP ratio should be the anchor of the new simplified fiscal framework. This choice ensures that long-term debt sustainability in the member states remains the ultimate objective of the rules," the report said.
Under the proposal, countries which maintain their primary expenditure below a set ceiling over a three-year period – and therefore are set to lower their debt – could be considered in line with EU rules even if they run excess deficits.
Advisers also proposed scrapping structural deficit targets as a way of assessing fiscal compliance.
The proposal could be welcomed in countries like Italy which call for larger deficits. The Commission last week warned Italy that its budgetary plans for next year were at risk of breaching the structural deficit requirement.
But even under the Fiscal Board's proposals, Italy would be likely to be non-compliant as the country's debt is not on a credible downward path.
The report said debt should remain below 60 percent of GDP, in line with current requirements, but proposed a longer adjustment period of 15 years to reach the target.
Italy has a debt above 130 percent of GDP. The Italian government says its expansionary budget will reduce the debt by increasing growth, but experts agree the expected output is over-optimistic.
Advisers also recommended making sanctions for offenders more gradual and effective as existing penalties have never been applied.
(Reporting by Francesco Guarascio. Editing by Jane Merriman)