Italy's government digs in over budget plan as pressure rises
Comments
By Reuters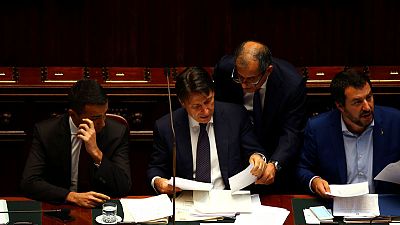 -
ROME (Reuters) – The leaders of Italy's ruling parties said on Wednesday they would not backtrack on plans to increase deficit spending, digging in against financial market and EU pressure and criticism from parliament's budgetary watchdog.
The comments came before Economy Minister Giovanni Tria returned to speak in parliament at 1000 a.m. (0800 GMT) about plans to fix next year's deficit at 2.4 percent of gross domestic product.
That is three times the forecast of the previous centre-left administration, drawing criticism from the European Commission and triggering a sharp rise in yields on Italian government bonds.
Tria is returning parliament for a second day after Italy's fiscal watchdog, the parliamentary budget office (UPB), on Tuesday refused to validate the government's multi-year budget plan, saying its forecasts for economic growth were too optimistic.
The planning document projected growth targets of 1.5 percent next year, 1.6 percent in 2020 and 1.4 percent in 2021.
Both leaders of the ruling coalition said they would not give in to pressure.
On RAI state radio, anti-establishment 5-Star Movement leader Luigi Di Maio said he would not "betray" Italians by changing the budget plan.
Far-right League leader Matteo Salvini, speaking on RAI state TV, warned "speculators" against betting that the government would climb down.
Salvini said "a few big financial institutions" are "betting that Italy will backtrack (on the budget). They're wrong".
(Reporting by Steve Scherer and Angelo Amante, editing by Giselda Vagnoni and John Stonestreet)