IOC has asked Senegal to help in Diack investigation
Comments
By Reuters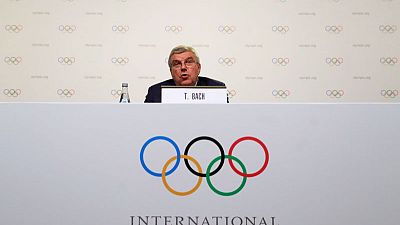 -
By Karolos Grohmann
BUENOSAIRES (Reuters) – The International Olympic Committee has asked Senegal to support a French investigation into the son of the former head of the international athletics federation (IAAF) who is suspected of corruption, IOC President Thomas Bach said on Tuesday.
France's financial prosecutor has said that Senegalese Papa Massata Diack, the son of former long-time IAAF President Lamine Diack, had been at the heart of a corruption scheme in international sports, an accusation he has denied.
The prosecutor said there were indications that payments were made in return for the votes of IAAF and IOC members over the designation of host cities for the Olympics and other major sporting events.
"We have been in contact with (IAAF President) Seb Coe on this," Bach told reporters.
"We have asked Senegal already a long time ago to assist in the inquiry and we have had assurances months ago that if the French authorities want to hear Papa Massata Diack then they can come to Senegal and there he will be at the disposal of the French authorities."
The President of Senegal, Macky Sall, was at the IOC Session in Argentina this week as the capital, Dakar, was named as the 2022 Youth Olympics hosts.
Lamine Diack was president of the IAAF from 1999-2015. He was the first African head of athletics' governing body and an influential member of the IOC. His son was a former marketing consultant to the IAAF.
Brazilian investigators have said politicians and the head of the national Olympic committee arranged a $2 million bribe for Lamine Diack's vote and for him to convince other IOC members from Africa to bring the 2016 Games to Rio de Janeiro.
The elder Diack is being detained in France as investigations continue.
(Reporting by Karolos Grohmann; Editing by Ken Ferris)