Golf club vote could lead to Wimbledon expansion
Comments
By Reuters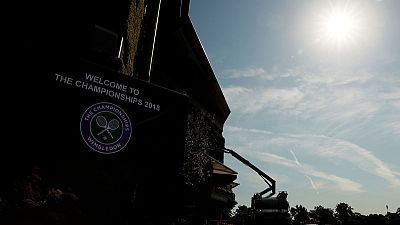 -
By Alan Baldwin
LONDON (Reuters) – Wimbledon could almost triple the size of its grounds if members of a local golf club vote to change their constitution on Wednesday.
The All England Lawn Tennis Club (AELTC) has made a 63.75 million pound ($83.8 million) offer, according to British media reports, to buy out early the lease of neighbouring Wimbledon Park Golf Club.
Wimbledon already owns the site but it does not revert to them until 2041.
"We have a fantastic site but we would like to create a bigger site," Mick Desmond, the AELTC's commercial and media director, told reporters at the Leaders Sport Business Summit at Chelsea's Stamford Bridge ground.
"We believe we would become a much bigger, more prestigious event by getting that land but also giving something back to the community.
"There's a constitutional vote today. So effectively they have to change their constitution in order to then vote on the bid that's in front of them. We obviously think it's a very fair bid," he added.
The Times newspaper said members, who pay a joining fee of 3,000 pounds and annual fees of up to 1,425 pounds, had each been offered an 85,000 pound cash settlement to seal the deal.
It quoted AELTC chairman Philip Brook as saying in a letter to the 750 members that the offer was final and would not be improved.
The move would add 73 acres (295,421 square metres) to the 42 acres currently used to host one of the pillars of the tennis calendar.
The land could be used to build courts for qualifying matches.
"We're going to get it anyway," said Desmond. "In 2041 it's going to come to us naturally because that's when the lease runs out. "So for us it's really buying a 20 year window."
Desmond said the AELTC kept a close eye on the expansion plans of other grand slams, notably the U.S. Open and France's Roland Garros, as well as other major sporting events.
"We think this would be fantastic for the UK," he said.
"We set ourselves ambitions of always trying to raise the bar and I think we can do so much within our current configuration and we can go much further by having a broader configuration.
"If the bid's not accepted, then there are clear plans of what still needs to be done on the current site. But it may well change some of the configuration and some of the thinking around that," he added. ($1 = 0.7603 pounds)
(Reporting by Alan Baldwin, editing by Keith Weir)