Ireland to boost budget package amid warning from watchdog
Comments
By Reuters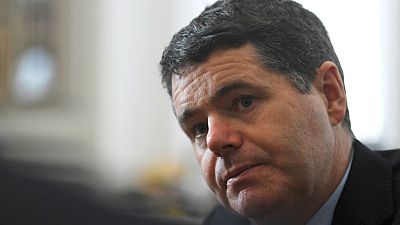 -
DUBLIN (Reuters) – Ireland's finance minister is set to boost his budget package by raising extra revenue for the second year in a row, amid warnings from the state's fiscal watchdog that the booming economy does not need such additional stimulus.
Having already pre-committed 2.6 billion euros on increased public sector and planned infrastructure spending for next year, Paschal Donohoe has a relatively modest 800 million euros (£702.8 million) to dish out on further tax cuts and spending increases.
But with an election potentially looming and the fast growing economy exacerbating deficits in areas such as housing, Donohoe intends to fund extra spending via measures including the likely scrapping of a reduced VAT rate for the hospitality sector.
That will allow the government to give middle income earners and the self-employed another small tax break and fully reverse the cuts to carers, people with disabilities and lone parents imposed during a series of savage austerity budgets a decade ago, Prime Minister Leo Varadkar said on Saturday.
Varadkar said his government's response to the risks posed by neighbouring Britain's impending exit from the European Union will feature centrally, promising a further round of "Brexit-proofing" measures that have had mixed results to date.
The government also intends to balance the state's books for the first time in more than a decade, an improvement on the tiny deficit planned originally planned but still not the surplus the central bank says should already be running.
The state's independent fiscal watchdog, set up in response to the years of reckless spending that left the Irish exchequer massively exposed when the 2008 financial crisis hit, has also voiced concerns over what its chairman has called the "not very good budgetary practice" of recent years.
It is particularly worried by successive years of spending coming in over budget, with this year's 700 million euro or 4.5 percent estimated overrun in the health service equivalent to almost the entire planned increase across government for 2018.
"I think we could perhaps see something similar for budget 2019, that when you look at what's announced it could appear prudent but what's going to happen again next year?" Seamus Coffey, chair of the Irish Fiscal Advisory Council, told national broadcaster RTE.
"The issue is we're not sticking to plans, we're not getting the improvement in the public finances and as that money is coming in, it's going out just as quick."
(Reporting by Padraic Halpin; Editing by Alison Williams)