Host Indonesia hopes IMF-World Bank meetings will warn against protectionism
Comments
By Reuters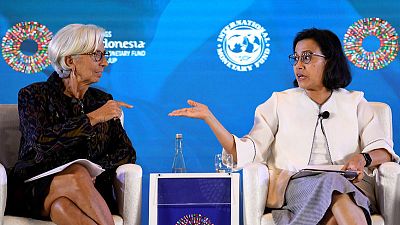 By Gayatri Suroyo and Ed Davies
NUSADUA, Indonesia (Reuters) – Economic policymakers gathering in Indonesia for this week's annual meetings of the International Monetary Fund and World Bank should highlight risks to the global economy posed by rising protectionism, the host nation's finance minister said.
The prospect of a further escalation in the trade war between the United States and China – the world's two largest economies – will haunt finance ministers, central bankers and economists flocking to the resort island of Bali to attend the meetings, which begin on Thursday.
In an interview with Reuters on Tuesday, Indonesia's Finance Minister Sri Mulyani Indrawati aired her fears that U.S. President Donald Trump's pursuit of a better deal for U.S. companies and farmers had started a slide toward protectionism.
"I think many countries had already adopted lower tariffs until President Trump imposed tariffs," she said, and now there was question of whether countries were becoming "more comfortable" with the idea of increasing or adding tariffs.
Indrawati, a former World Bank managing director, said she hoped policymakers would "articulate more of those risks" during the forthcoming meetings, and encourage "countries to be more restrained in using those kind of measures".
"Because when all economies start to implement protectionism, the global economy is going to be worse off, because the volume of trade is going to drop. Growth is going to also decline," she said.
Indeed, the IMF on Tuesday cut its global economic growth forecasts for 2018 and 2019, saying that the U.S-China trade war was taking a toll and emerging markets were struggling with tighter liquidity and capital outflows.
The multilateral lender also predicted severe repercussions for the United States and China if they slid into an all-out trade war.
While so many countries shared common fears, Indrawati said it was difficult to forge cooperation to counter the risks.
"It's not really clear how the world is going to coordinate more effectively, especially when each country has their own domestic issues," she said.
Emerging economies including Indonesia have also been suffering from a rise in U.S. interest rates that has triggered a sell off in their assets, with the rupiah currency hitting its lowest since the Asian financial crisis in 1998.
Indrawati, who is due to meet U.S. Treasury Secretary Steven Mnuchin later this week, hoped the United States and its central bank would listen to other countries concerns over the impact of U.S. policies, regardless of the strong growth the U.S. economy is currently enjoying.
Referring to the potential impact on Indonesia from any sharp slowdown in China, she said this would depend on how China's efforts to cushion its economy pan out.
China is Indonesia's biggest trade partner and its strong economic growth has in the past created a large market for Indonesia's natural resources.
The recent easing of liquidity rules for banks in China may create more demand for imports, which could be a source of growth for many countries including Indonesia, she said.
On the other hand, there was also a risk China would dump products it previously sold to the United States on other countries, she said.
(Editing by Simon Cameron-Moore)