Newly installed Kavanaugh gets to work at U.S. Supreme Court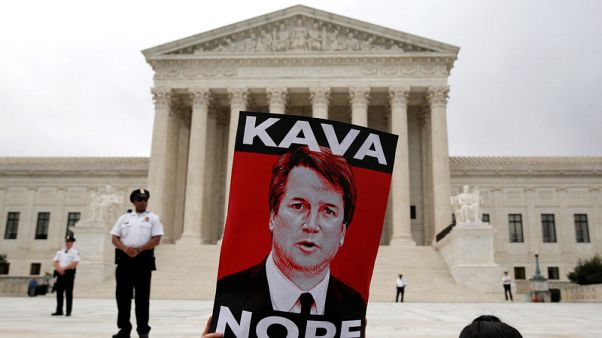 -
By Andrew Chung
WASHINGTON (Reuters) – Three days after being confirmed to the U.S. Supreme Court despite being accused of sexual assault, Justice Brett Kavanaugh took his seat on the bench on Tuesday alongside his eight new colleagues, cementing a conservative majority for years to come.
President Donald Trump's appointee wasted little time in getting down to business, asking his first question of a lawyer representing a defendant about 20 minutes into arguments concerning a federal criminal sentencing law. Before the arguments began, Chief Judge John Roberts welcomed Kavanaugh to the court.
"We wish you a long and happy career in our common calling," Roberts said.
With police standing by, a handful of protesters opposed to Kavanaugh gathered outside the Supreme Court building on Tuesday morning, holding signs saying "Shame" and "He sits on a throne of lies," while chanting, "This isn't over, we're still here."
Kavanaugh, 53, brought the nine-member court back to full strength after the retirement of long-serving Justice Anthony Kennedy in July.
Kavanaugh's confirmation gave the Republican president a major political victory ahead of crucial Nov. 6 congressional elections, with Trump's second lifetime selection for the nation's highest judicial body. Conservative Justice Neil Gorsuch joined the court last year. The high court now has five conservative justices and four liberals.
Trump on Twitter on Tuesday said he was "very proud" of Kavanaugh and his family, and disparaged the anti-Kavanaugh protesters.
The bitterly divided U.S. Senate voted 50-48 on Saturday to confirm Kavanaugh, with just one Democrat supporting him.
Kavanaugh's nomination had appeared safe until Christine Blasey Ford, a university professor in California, last month went public with allegations that Kavanaugh had sexually assaulted her in 1982 when they were high school students in Maryland. Two other women also accused Kavanaugh of sexual misconduct dating to the 1980s.
Kavanaugh denied the allegations and during a Senate hearing on Sept. 27 accused Democrats of an "orchestrated political hit."
He later wrote in a newspaper opinion piece that he regretted some of his comments. But critics said Kavanaugh's demeanor before the Senate Judiciary Committee raised questions about his temperament and potential political bias in deciding cases.
Some analysts said the court's reputation could suffer as it becomes perceived as a political, rather than a legal, institution.
Kavanaugh moved to the Supreme Court after spending 12 years as a judge on the influential U.S. Court of Appeals in Washington, building a conservative judicial record.
Before hearing arguments on Tuesday, the justices turned aside appeals of a 2017 ruling authored by Kavanaugh on the lower court that struck down a 2015 environmental rule imposed under former President Barack Obama regulating a potent greenhouse gas linked to climate change.
The appeals were brought by an environmental group and companies that supported the rule, which had limited hydrofluorocarbons used in a variety of products including spray cans and air conditioners.
'LIESANDDECEPTION'
At a White House ceremony on Monday night, Kavanaugh said he was starting his new job without bitterness. "Although the Senate confirmation process tested me as it has tested others, it did not change me," Kavanaugh said.
But Trump, who last week publicly mocked Ford, continued to stoke political divisions at Monday's ceremony, saying Kavanaugh had been the victim of "a campaign of political and personal destruction based on lies and deception."
Kavanaugh is expected to push the court further to the right as he is replacing Kennedy, a conservative who sometimes voted with the liberal justices on key social issues including in cases involving abortion and gay rights.
Kavanaugh can be expected to cast crucial votes on those issues as well as gun control, immigration, voting rights and others.
His views on presidential powers could be tested within days in a dispute over whether Commerce Secretary Wilbur Ross should submit to questioning by lawyers suing the Trump administration over a decision to add a controversial citizenship question to the 2020 census.
Tuesday's cases being argued before the justices involved the 1984 Armed Career Criminal Act, a "three-strikes-and-you're-out" criminal sentencing law that boosts prison sentences after multiple violent felonies or drug offenses.
The cases challenge the types of crimes that qualify as violent felonies under that law and can lead to 15-year mandatory minimum sentences for a defendant. The cases concerned a Florida robbery conviction and burglary convictions in Tennessee and Arkansas.
(Reporting by Andrew Chung; Additional reporting by Lawrence Hurley, Jeff Mason and Susan Heavey; Editing by Will Dunhsam and Bill Trott)
euronews provides breaking news articles from reuters as a service to its readers, but does not edit the articles it publishes. Articles appear on euronews.com for a limited time.