Far-right candidate eyes Santander Brasil director for central bank - report
Comments
By Reuters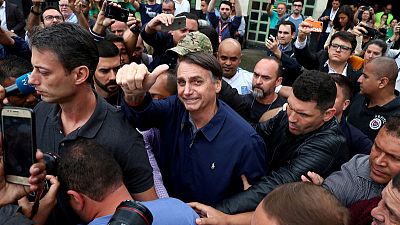 -
By Bruno Federowski and Carolina Mandl
BRASILIA/SAO PAULO (Reuters) – Far-right Brazilian presidential candidate Jair Bolsonaro, pushing to put business leaders in government roles, could invite the head of global markets at Santander Brasil SA <SANB11.SA> to lead the central bank if current governor Ilan Goldfajn declines to stay, a newspaper reported on Tuesday.
Roberto Campos Neto, who also runs the trading desk of Santander Brasil, is one of several executives being considered to run ministries and state enterprises, Folha de S.Paulo reported without saying how it obtained the information.
Congressman Bolsonaro came just short of the majority vote that would have won him the presidency outright in Sunday's election. He now faces leftist Fernando Haddad, a former mayor of Sao Paulo, in a second round vote on Oct. 28.
Folha also reported that Alexandre Bettamio, chief executive for Latin America at Bank of America Corp <BAC.N>, could take over as CEO of state-run lender Banco do Brasil SA <BBAS3.SA>.
The Bolsonaro campaign did not immediately respond to a request for comment. Neither Campos Neto nor Bettamio could be immediately be reached for comment.
Roberto de Oliveira Campos, a grandfather of the Santander Brasil banker, served as planning minister in the early years of Brazil's 1964-1985 military government, when pro-U.S. views and free-market policies and earned him the nickname "Bob Fields".
Bolsonaro, an outspoken apologist for the dictatorship, in the past defended nationalist, interventionist economic policies with which the military government spurred an inflationary economic boom in the 1970s, after Campos left the government.
Since Bolsonaro launched his presidential campaign, the former army captain has declared his conversion to more market-friendly policies advocated by his main economic advisor, University of Chicago-trained banker Paulo Guedes.
Guedes told Reuters in the past that Bolsonaro could invite Ilan Goldfajn, a former executive at the nation's largest private-sector bank, Itaú Unibanco Holding SA <ITUB4.SA>, to continue leading the bank.
However, Goldfajn has strong ties to the Brazilian Social Democracy Party (PSDB), formerly Brazil's most important right-of-center party, which has lost space to Bolsonaro's more hard-right Social Liberal Party (PSL).
According to the report, Bolsonaro has not yet issued any formal invitations and would only do so once he is elected, but he is considering the appointment of executives that have advised his campaign.
Folha cited João Cox, chairman of telecom TIM Participações SA <TIMP3.SA>; Sergio Eraldo de Salles Pinto, an executive at investment firm Bozano Investimentos, which Guedes founded; and Maria Silvia Bastos, former president of state development bank BNDES and now head of Goldman Sachs in Brazil.
The executives could not immediately be reached for comment through their companies.
(Reporting by Bruno Federowski and Carolina Mandl; Additional reporting by Ana Mano and Gram Slattery in Sao Paulo, Ricardo Brito in Brasilia; Editing by Brad Haynes and David Gregorio)