EU G6 Leaders Meet for Summit on Migration & Terrorism
Comments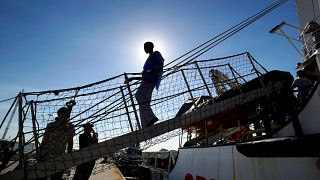 Migration policy in Europe will top the agenda today as interior ministers from the EU's 6 biggest countries, hold meetings here in Lyon.
Ahead of the talks - France called on Italy's anti-immigration interior minister Matteo Salvini to accept a joint position on the topic.
The meetings come after a summer which saw Italy close its ports to rescue ships and the German government almost derailed over its refugee policy. Germany's Interior Minister Horst Seehofer, who was a leading figure in orchestrating the so-called "transit zones" along Germany's southern border which has seen some migrants deported back to country's they originally landed in.
Seehofer chose not to attend the G6 meeting and instead sent his secretary of state to the bilateral meetings.