Bank of England tells EU to move now to avoid hard Brexit risks for financial services
Comments
By Reuters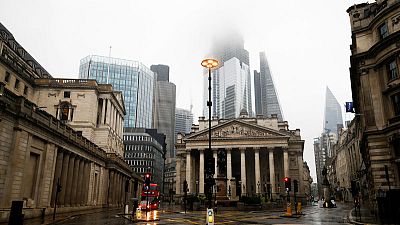 -
LONDON, Oct 9 (Reuters) – The Bank of England called on the European Union to do more to protect cross-border financial services from the risks of a so-called cliff-edge Brexit, saying the need for action was now pressing.
Less than six months before Britain is due to leave the EU, creating the potential for new barriers for companies doing business across the English Channel, the BoE said it saw risks for insurance, derivatives and the transfer of data.
London and Brussels have so far not agreed on the terms of Britain's departure from the bloc and their new relationship.
"There has been considerable progress in the UK to address these risks, but only limited progress in the EU," the central bank's Financial Policy Committee said in a statement published on Tuesday after a meeting on Oct. 3.
"In the limited time remaining, it is not possible for companies on their own to mitigate fully the risks of disruption to cross-border financial services. The need for authorities to complete mitigating actions is now pressing."
Derivatives with a nominal value of 40 trillion pounds faced legal uncertainty after Brexit, due to take place on March 29, if the EU took no action to ensure continuity of existing rules.
On insurance, even if companies based in Britain complete planned moves of their European business to the EU before March, around 9 million policyholders in the bloc would still be under the shadow of uncertainty after March, the central bank said.
Also on Tuesday, the FPC said it was keeping its capital buffer rate for banks unchanged, noting restraint among borrowers although it said it was concerned by fast growth in lending to riskier, highly indebted companies.
Britain's banks are required to meet a so-called countercyclical capital buffer of only 1 percent of their risk-weighted assets as part of the BoE's attempts to avoid a repeat of the taxpayer bailouts after the global financial crisis.
The FPC said it would review the CCyB level at its next meeting on Nov. 28.
(Reporting by Huw Jones and William Schomberg)