Heavy rains across Central America leave 12 dead
Comments
By Reuters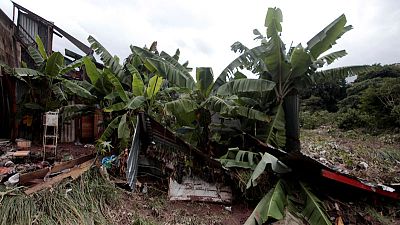 -
By Gustavo Palencia
TEGUCIGALPA (Reuters) – Torrential rain in Central America that caused floods and landslides have killed 12 people in just a few days, rescue and emergency authorities across the region said on Sunday.
Heavy rains that began on Thursday have battered countries from Guatemala to Costa Rica, and prompted a landslide in Honduras that killed two children and their mother while they were sleeping.
The rain destroyed houses and crops and forced thousands to leave their homes for temporary shelters.
Six people were killed in Honduras and 7,000 evacuated their homes, local authorities said. In Nicaragua, the government said 23,000 people were affected and that a fisherman was killed after his boat overturned. Two others drowned in a river.
The head of El Salvador's civil protection agency said two people were killed, one after a tree fell on a car, and 10 others were injured by a wall that collapsed.
One person died in Costa Rica and a child disappeared in Guatemala.
(Reporting by Gustavo Palencia in Tegucigalpa, Ismael Lopez in Managua, Nelson Renteria in San Salvador, Alvaro Murillo in Costa Rica and Sofia Menchu in Guatemala City; Writing by Christine Murray; Editing by Peter Cooney)