Faury waits in wings as Airbus board meets to discuss CEO post
Comments
By Reuters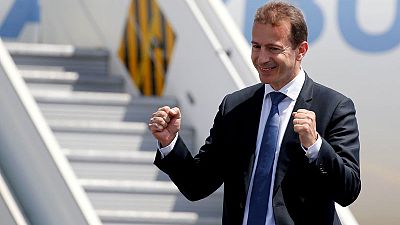 -
PARIS (Reuters) – The board of Airbus <AIR.PA> gathered on Monday to discuss the European aerospace group's leadership and could confirm planemaking chief Guillaume Faury as the next chief executive, people familiar with the matter said.
"There is a 50-50 chance the board could make a decision to name Faury this week," a person familiar with the matter said.
Airbus declined comment.
The Frenchman would succeed Tom Enders who is officially due to step down next year, but who several industry sources say could hand over the reins sooner than originally planned.
On Sept 28, Reuters exclusively reported that Airbus was moving swiftly towards appointing Faury as its next chief executive and could announce an accelerated decision within weeks amid a growing leadership vacuum.
Faury, 50, was appointed head of the core planemaking business last December after Fabrice Bregier agreed to quit following a power battle with Enders, in a shake-up that also saw the German CEO draw back from plans to seek a third term in 2019.
Pressure to end uncertainty over the CEO post grew with the resignation of the Airbus sales chief in August, with the abrupt departure of the former Rolls-Royce executive strengthening calls for an internal successor to Enders..
As CEO of Boeing's <BA.N> main rival, Faury would continue to tackle industrial problems affecting some jet deliveries.
He would also need to restore morale shattered by a probe into the use of middlemen, now in its third year and which has left management sidelined as board directors pilot the inquiry.
If confirmed, his hiring could eventually herald changes in the board, where French chairman Denis Ranque retires in 2020. Airbus usually divides chairman and CEO jobs between French and German nationals, though the ability of Paris and Berlin governments to steer that balance openly was halted in 2013.
(Reporting by Tim Hepher; Editing by Keith Weir)