Rugby - Victory eases pressure on Cheika but coach needs more wins
Comments
By Reuters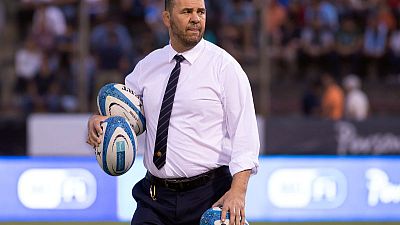 -
SALTA, Argentina (Reuters) – A half-time shellacking from coach Michael Cheika turned around one of the most remarkable rugby internationals in history on Saturday but the Australians will need more than words if they are to improve on a disappointing Rugby Championship.
Fans were calling for Cheika's head at half time in Australia's Rugby Championship match against Argentina, with the home side 31-7 ahead and the Wallabies looking hapless and destined for a fifth loss in six games that would leave them last in the table.
The Australians, however, scored five tries in the second period after Cheika got them back to the dressing room at the break.
A silent video showed the angry coach pacing up and down and berating his charges and although he refused to reveal what he said, skipper Michael Hooper perhaps euphemistically acknowledged they were read the riot act."Yeah, he had some pretty firm words there in the second half," Hooper said. "But like I said it was the choice of the players to come out in the second half and I'm very proud to react like that. The key for us is to do it for longer."
The transformation was immediate as Australia scored five tries in 22 minutes to beat the hosts 45-34 and Cheika lauded his players for taking responsibility to redeem themselves after their atrocious first half.
But the comeback, the biggest in the Wallabies history, cannot obfuscate their performances in this year's tournament.
They won only two of their six Rugby Championship matches and avoided the wooden spoon by the slimmest of margins and have won just three matches in their last 11 tests.
Cheika acknowledged his critics may not be assuaged by a come from behind win against Argentina.
"We haven't been winning and so that's what happens," he told reporters. "You get critics and you accept that."
The big challenge now is to go to Japan where they play their third Bledisloe Cup game against New Zealand on Oct. 27.
The All Blacks, who have already retained the Bledisloe Cup and won a third consecutive Rugby Championship, have beaten the Wallabies in nine of their last 10 encounters.
"We must improve a lot on our match today so we can win and that is what we are going to try, not try, that's what we are going to do," Cheika said.
(Writing by Andrew Downie; Editing by Greg Stutchbury)