U.S. Senate plans procedural vote on Kavanaugh in bitter confirmation fight
Comments
By Reuters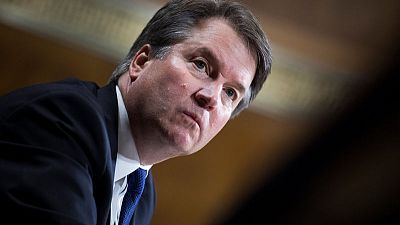 -
By Richard Cowan and Amanda Becker
WASHINGTON (Reuters) – President Donald Trump's drive to cement the conservative grip on the top U.S. court faces a major test on Friday as the Senate holds a key procedural vote on Brett Kavanaugh, whose Supreme Court nomination has set off a political brawl.
Senate Republicans were growing more confident they would win the 10:30 a.m. (1430 GMT) vote after two wavering Republican senators responded positively on Thursday to an FBI report on accusations of sexual misconduct against Kavanaugh. The Senate plans a final confirmation vote on Saturday.
Trump, himself accused by numerous women during the 2016 presidential race of sexual misconduct, wrote on Twitter that the FBI report showed that the allegations against Kavanaugh were "totally uncorroborated."
The confirmation of Kavanaugh, a federal appeals court judge, would tip the balance on the Supreme Court to a 5-4 conservative majority. He was nominated by Trump to succeed retired Justice Anthony Kennedy, who was seen as a swing vote on the court.
While she did not pledge support for Kavanaugh, moderate Republican Senator Susan Collins said the FBI probe appeared thorough.
Republican Senator Jeff Flake, who voted for Kavanaugh at the committee level on the condition that the FBI look more closely into the allegations against Kavanaugh, said he saw no additional information corroborating the accusations.
Most Democrats opposed Trump's nomination of Kavanaugh from the outset, but their objections sharpened when Christine Blasey Ford, now a college professor in California, and two other women accused Kavanaugh of sexual misconduct in the 1980s when he was in high school and college.
Ford and Kavanaugh testified at a dramatic Senate Judiciary Committee hearing last week in which she described the alleged assault, and Kavanaugh denied all of the allegations against him, while accusing the Democrats of a political "hit."
In a Wall Street Journal op-ed on Thursday, Kavanaugh said he "might have been too emotional at times" in his testimony, saying it "reflected my overwhelming frustration at being wrongly accused."
"I know that my tone was sharp," he wrote, "and I said a few things I should not have said."
Trump's fellow Republicans hold a 51-49 majority in the Senate, meaning that if all Senate Democrats oppose Kavanaugh, Trump cannot afford to lose more than one Republican vote for his nominee, with Vice President Mike Pence casting a tiebreaking vote.
No Republicans have said they will vote against him, but all eyes will be on Flake, Collins, Republican Senator Lisa Murkowski and Democrat Joe Manchin – all potential swing votes.
The FBI report, sent by the White House to the Senate Judiciary Committee in the middle of the night on Thursday, was denounced by Democrats as a whitewash that was too narrow in scope and ignored critical witnesses.
Democratic Senator Jeff Merkley said: "The (FBI) investigation doesn't come close to honouring and respecting the women who came forward to share their stories. It appears that the White House completely circumscribed the investigation to try to make it meaningless and they succeeded."
(Reporting by Amanda Becker and Richard Cowan; Editing by Kevin Drawbaugh and Peter Cooney)