South African finance minister says he deeply regrets Gupta meetings
Comments
By Reuters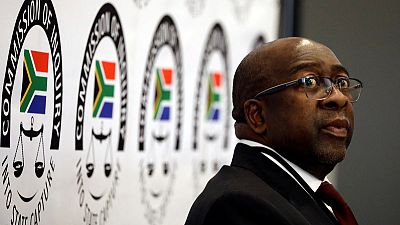 -
JOHANNESBURG (Reuters) – South Africa's Finance Minister Nhlanhla Nene said on Friday he was wrong to visit the Gupta family – friends of former President Jacob Zuma – at their home and that he should have disclosed the details of the meetings earlier.
The Guptas are accused of using their relationship with Zuma to win huge state contracts. They deny wrongdoing. Nene told a judicial corruption inquiry on Wednesday that he held several meetings with the Guptas at their home in Johannesburg.
"I was wrong in meeting the Guptas at their residence and not in my office or at least a public place," Nene said in a statement.
"These visits do cast a shadow on my conduct as a public office bearer. I deeply regret these lapses and beg your forgiveness."
Nene visited the Gupta family residence between 2010 and 2014, when he was deputy finance minister and later finance minister. Zuma fired Nene in December 2015, but President Cyril Ramaphosa re-appointed him finance minister in February this year.
Nene was the highest profile figure to give evidence at the ongoing probe into alleged influence-peddling by the Gupta family.
(Reporting by Olivia Kumwenda-Mtambo; Editing by Hugh Lawson)